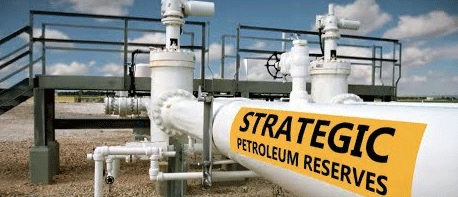 New Delhi: Odisha will be benefitted with the new Strategic Petroleum Reserve (SPR) coming up in Chandikhol in Jajpur District.
A SPR having 4 Million Metric Ton (MMT) Capacity is being set up at Chandikhol, for which In Principle approval was given in June, 2018, said Dharmendra Pradhan in a written reply in Rajya Sabha today.
He said under Phase II of the SPR Program, the Union Government has given 'in principle' approval in June 2018 for establishing two additional SPR facilities with total storage capacity of 6.5 MMT at two locations.
Those are Chandikhol in Odisha (4 MMT) and Padur in Karnataka (2.5 MMT).
As per the consumption pattern of 2019-20, 6.5 MMT SPR capacity is estimated to provide for about additional 12 days of India's crude oil requirement.
Union Minister said that Indian Strategic Petroleum Reserve Limited (ISPRL), a Government of India Special Purpose Vehicle, has established Strategic Petroleum Reserves (SPR) facilities with total capacity of 5.33 Million Metric Tonnes (MMT).
SPRs are at 3 locations, Vishakhapatnam, Mangaluru and Padur. As per the consumption pattern of 2019-20, the total capacity is estimated to provide for about 9.5 days of crude oil requirement.
In addition, Oil Marketing Companies (OMCs) in the country have storage facilities for crude oil and petroleum products for 64.5 days, thus the current total national capacity for storage of crude oil and petroleum products currently is 74 days.
Taking advantage of low crude oil prices in April/May 2020, the Strategic Petroleum Reserves have been filled to full capacity, leading to notional savings of approximately INR 5000 crore.
Union Minister said as on 1 January, 2021, total domestic Liquefied Petroleum Gas (LPG) consumer is 28.90 crore in the country.
Apart from LPG, 70.75 lakh domestic consumers are also using Piped Natural Gas (PNG).
While at present, National LPG coverage is 99.5 Percent, Odisha is having 80.3 Percent Coverage.
Mr.Pradhan said the Union Government has been promoting use of ethanol as a blend stock with main automotive fuel like petrol in line with the National Policy on Biofuels (NBP) -2018 under the Ethanol Blended Petrol (EBP) Programme.
This policy envisages an indicative target of blending 20PC ethanol in petrol by 2030.
Union Government has since allowed production of ethanol from sugarcane and food grain based raw-materials.
Department of Food & Public Distribution has informed that the cost of production of ethanol varies from distillery to distillery and depends upon various factors viz. cost of raw material, conversion cost, efficiency of distillery plants.
Further, keeping in view the above factors, the Government of India has fixed the ex-mill price of ethanol from sugarcane based raw-materials and Oil Marketing Companies (OMCs) have fixed the price of ethanol from damaged and surplus rice with FCI for Ethanol Supply Year (ESY) 2020-21.