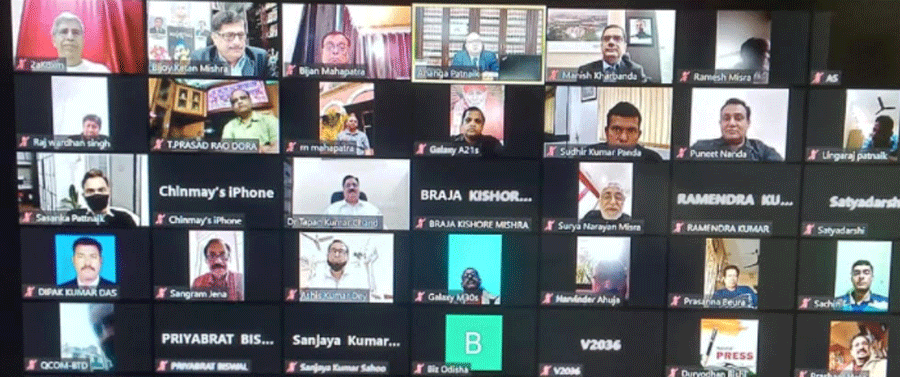 Bhubaneswar: The gains mining owners make must be ploughed back in the state for the people of the mining locality as they have a right over it, said former judge of the Supreme Court of India Justice Anang Kumar Patnaik.
During his address as Chief Guest in the virtual meeting organized by the Odisha edition of The Political and Business Daily (PBD) to launch its publication, PERSPECTIVE, today, Justice Patnaik said mine owners and industrialists cannot be allowed to pollute the environment and destroy the society. They must contribute to the growth and development of their areas of operation, he said.
He informed the audience how Odisha Mineral Bearing Areas Development Corporation (OMBDAC) was created following the intervention of the Supreme Court which ordered the State government to deposit the initial Rs. 800 cr collected from unauthorized mining. Subsequently, this amount went up to Rs. 16,000 cr and after his retirement the apex court has appointed him to oversee the utilisation of this fund for the development of the mineral bearing districts.
"SC has asked me to ensure that all these funds are utilized for providing mineral-free unpolluted drinking water to local people, drinking water tap in every house," he said while elaborating that this fund is being utilized to provide proper education, better health facilities, road communication in remote areas, betterment of livelihood of these districts etc.
Justice Patnaik also informed that how his order on mining in Goa led to the amendment of the MMDR Act under which it is now mandatory for every mine owner to deposit 10 pc of the sale proceeds in the District Mineral Fund.
He said this while replying to a question on the wanton pollution industrialists and mine owners keep doing with utter disregard to the life of the people living in the neighborhood.
He congratulated the PBD team for successfully completing 10 years in Odisha and bringing out PERSPECTIVE, an anthology of editorial articles published in their newspaper.
Speaking on the occasion, eminent corporate personality, Manish Kharbanda said newspapers have a very significant role to play in our democracy.
During Chief Minister Naveen Patnaik's tenure, with the overall development witnessed in Odisha, the press has also grown, he said. From a small number of newspapers, the print media in Odisha has expanded to quite a lot, he said while congratulating PBD for being able to create a noticeable place for itself in the area of English dailies in the state.
PBD has been able to maintain complete independence while highlighting political, economic and social developments in the state. Being a favourite newspaper of political and corporate executives, it has been growing further, he said while urging the news paper management to adopt modern technology to overcome huddles it has encountered for its growth.
The President Business Development and Advocacy of Vedanta Aluminium, Dr TK Chand in his address during PBD's book launching virtual conference said, PBD is a newspaper with a difference & distinction. "It's form, content, language and lay out match national English dailies, sometimes ahead. In giving news service it is one stop shop."
He also said Covid response of PBD is appreciable and it has succeeded in dispelling misinformation. "One of the significant contributions of the news paper has been in building up a motivating environment for industry by recognizing their contribution in it.
Stating that MSME is the future, Dr Chand advised PBD to highlight their issues in the newspaper. He recommended a cashless model for mother Industry and MSME handholding.
The Group Editor of PBD Puneet Nanda also addressed the conference and said despite difficulties the Odisha edition has been growing primarily due to the assiduous endeavour of its Resident Editor, BK Mishra.
Moderating the discussion in this anniversary program Resident Editor of PBD Mr.Mishra said even as it has completed ten successful years in Odisha, it's journey has not been smooth. Yet it has neither deviated from its middle-of-the-road approach nor shirked its responsibility to provide its readers unadulterated reporting and unbiased analysis of political, economic and social developments.