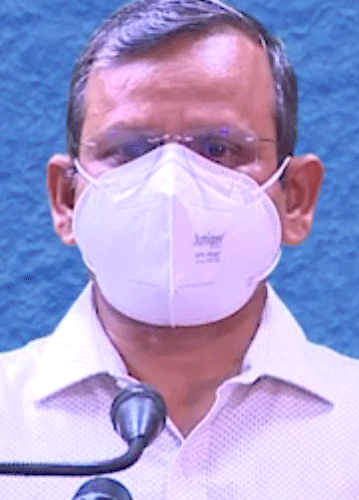 Bhubaneswar: A day before the lockdown restrictions were set to end, the State Government on Wednesday announced partial lockdown restrictions to continue in the State till 1 July, 5AM.
In the wake of the second Covid wave, the Odisha Government had imposed a lockdown from May 5 to 14, which was first extended to 1 June and subsequently to17 June 5 AM.
Briefing media persons here, Chief Secretary Suresh Chandra Mahapatra said, "To break the chain of Covid-19 infection, the State Government has imposed lockdown in three phases since 5 May . With the support and cooperation of people and Covid warriors, the State has crossed the peak. Now the TPR has come down from 14 per cent to 6 per cent."
All 30 districts have been divided into two groups. As many 17 southern and western districts have been marked as Category A, where the Test Positivity Rate (TPR) has remained below 5 per cent while remaining 13 districts of coastal and adjourning area have been put in Category B where the TPR remained high.
Western Odisha districts, where the cases were high during the initial period of the second wave, are now reporting a very low positivity rate. Therefore, little relaxation has been given in the districts, Mr.Mohapatra said.
Sundergarh, Ganjam, Malkangiri, Nabarangpur, Nuapada, Deogarh, Kalahandi, Sonepur, Koraput, Jharsuguda, Kandhamal, Bargarh, Boudh, Rayagada, Gajapati, Sambalpur, Bolangir and districts have been put under Category A.
The Category B districts are—Puri, Kendrapara, Khurda, Jajpur, Balasore, Bhadrak, Jagatsinghpur, Dhenkanal, Angul, Cuttack, Boudh, Nayagarh and Mayurbhanj.
In Category-A districts, the shops for essential goods will open from 6 AM to 5 PM while Category -B districts, the shops for essential goods will open from 6 AM to 1 PM, he said.
Street vending for take away packets is allowed only in 17 districts under Category A.
However, the Chief Secretary informed the weekend shutdown to continue across the State till 1July.
Keeping in view the livelihood of milk farmers, the Government has decided to open sweet shops in the State. They can only give parcels, he said.
The cycle sale and automobile repair shops will continue to remain open. Morning walk, jugging is allowed but the parks and gyms will remain closed, Mr.Mohapatra said.
All essential services, transport of goods, industrial activities and construction activities will be allowed. But public buses will not run. All restrictions regarding marriage, cremation, meetings, social gatherings, and religious places will continue as before.
All temples and places of warship will remain closed till 1 July. However, rituals will continue as earlier, the Chief Secretary said.
As the State had reported a high number of cases during monsoon period last year, Mr.Mohapatra appealed to people not to move out unless it is very necessary.
He further appealed to follow Covid appropriate behaviors like wearing a mask, social distance and washing hands.