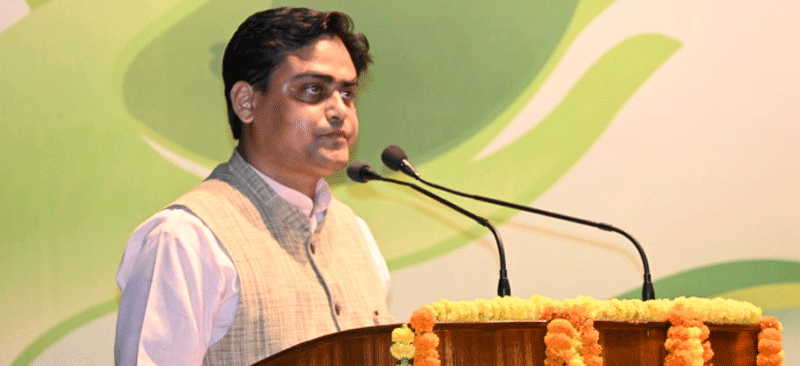 Bhubaneswar: Paradip Port will emerge as a world class mega port with over 750 Million Tonnes Per Annum (MTPA) capacity by 2047, Union Minister of State for Port Shipping and Waterways Shantanu Thakur said.
Virtually inaugurating the Maritime Public-Private-Partnership Conclave 2022 organized by Paradip Port Authority here on Thursday, Mr.Thakur said Paradip Port has been at the forefront in successfully completing several PPP projects worth over Rs.3000 crores recently.
Principal Secretary Commerce & Transport, Bishnupada Sethi, Principal Secretary Industries Hemant Sharma, Paradip Port Authority Chairman P L Harnadh graced the occasion.
All these projects helped the port with an additional capacity of 55 MTPA The Port has recently been awarded the Western Dock project of 25 MTPA capacity at a cost of Rs.2392 crores.
The first Phase of this project for 12.5 MTPA capacity will be completed in three years and the overall project in 5 years-time. On completion, this will enable Paradip Port to have facilities to handle large Cape size vessels up to 18.5 meters draft, Thakur said.
He reiterated that the Union Government under the visionary leadership of Prime Minister Narendra Modi has been laying emphasis on attracting private investments to the port sector to induct latest technology, improve management practices, capacity addition and enhancement of functional efficiency to India's major ports.
The public private partnerships increase access to capital, encourage innovation and help share risks, he said.
The Union Minister said the principal objective for encouraging PPP in the Port sector is to fulfill the requirement of creating infrastructure and operating them smoothly through expeditious mobilization of private sector resources to improve the quality and efficiency of services to the stakeholders.
Paradip Port Authority Chairman PL Haranadh said to fulfill the objective for a USD 5 trillion Indian economy in 2025, the port sector will have to grow to 2.3 Billion tonnes per annum (BTPA) traffic by 2026.
He said there is a need to bridge the port capacity gap in the next five years to capture the traffic growth. The Government of India's initiatives such as Sagarmala Programme, Maritime India Vision 2030, Major Port Authority Act 2021, National Monetisation Pipeline, Gati Shakti and Amrit Kal Vision 2047 have been pivotal in driving PPP investments to the tune of Rs 10 lakh crores in the Indian port sector.
The Paradip port has been envisioned to become 750 plus MTPA capacity by 2047. Around 80 MTPA capacity addition projects have been identified to be taken up in the recent 4-5 years period, he pointed out.
Further capacity augmentation projects are being explored driven by Port led Industrialisation and adequate port connectivity.
Industries Principal Secretary Hemant Sharma said Eastern India has a lot of growth potential in steel, polymer and plastic adding ports at Dhamra, Gopalpur, Subarnarekha and Paradip including the upcoming Mahanadi Riverine Port have huge growth potential. He said Odisha government with its single window clearance system has smoothen the port led industrialization at Paradip, Kendrapara and Balasore region.
Bishnupada Sethi, Principal Secretary, Commerce and Transport, stressed for bringing the integrated vision of the State to action mode for transformation of the region. He also enumerated various investment opportunities in the State Maritime sector.
East Coast Railway (ECoR)General Manager Sharad Kumar Srivastava said the entire ECoR railway network is being planned to have automatic signaling to handle huge expected traffic in the region.