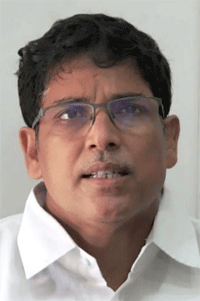 Bhubaneswar: Minister Higher Education, Arun Kumar Sahoo today said that the COVID pandemic is an unprecedented situation, and this is the best time to convert the crisis into opportunity. "We should not take it as a crisis. This is the time to face the crisis, realize and convert the crisis into opportunity. We have to do this as there is no other alternative," he added.
Addressing the virtual roundtable on COVID-19 'Impact on Education/Higher Education and Way Forward,' organized by FICCI Odisha State Council as Chief Guest, Dr Sahoo said that we have to learn to live with COVID situations and for last 1.5 years, both economy and the social life have been impacted. "The second wave has devastated the economic, social condition of individuals and states but we must convert the crisis into an opportunity," he added.
Speaking on the impact of the pandemic on education system, Dr Sahoo said that we must analyze the student mindset and it not the responsibility of the student only but parents, stakeholders, institutions and government as well. "The physical teaching and learning modes are better than the virtual mode. But today, we have to focus on digital education. Last year, before the pandemic we appointed over 2,400 lecturers in different colleges along with universities," he added.
He further added that the government is also planning to adopt the mentoring system in classes.
Achyuta Samanta, Member of Parliament and Founder KIIT University and KISS said that the absence of institution might affect the students emotionally as there is no social interaction. But digital education has brought a revolution in this sector.
Hemant Sharma, Principal Secretary, Industries Department, Skill Development and Technical Education said that education is not only about gaining knowledge but also about personality development. "Interaction amongst students in university campus is crucial, which is lost due to the pandemic. Digital innovative solutions are used by education institutions today," he added.
Prof Asoka Kumar Das, Vice Chairperson, Odisha State Higher Education Council said that COVID-19 has broken the backbone of the education system in Odisha. The government should focus on practical education format and better content development for students, he added.
Hrusikesha Mohanty, Vice Chancellor, KIIT University suggested that there must be provision the examinations can be conducted by the local authorities may it be the schools & colleges etc. Creation of virtual repositories & e-libraries will be very helpful in such times, he mentioned. He suggested that one institute of excellence for every discipline could be created to improve the quality of education.
Sabita Acharya, Vice Chancellor, Utkal University was of the view that it takes more time teaching online as delivery is getting affected. She suggested that to encourage digital education, teachers need to take extra effort & make the content more interesting & engaging.
Sanjay Kumar Nayak, Vice Chancellor, Ravenshaw University informed that a total of 320 mn students are affected by the pandemic. Developing digital infrastructure is the need of the hour, he advised. He also informed that UGC has recommended a blended learning mechanism which will comprise 40 percent online education & 60 percent offline.