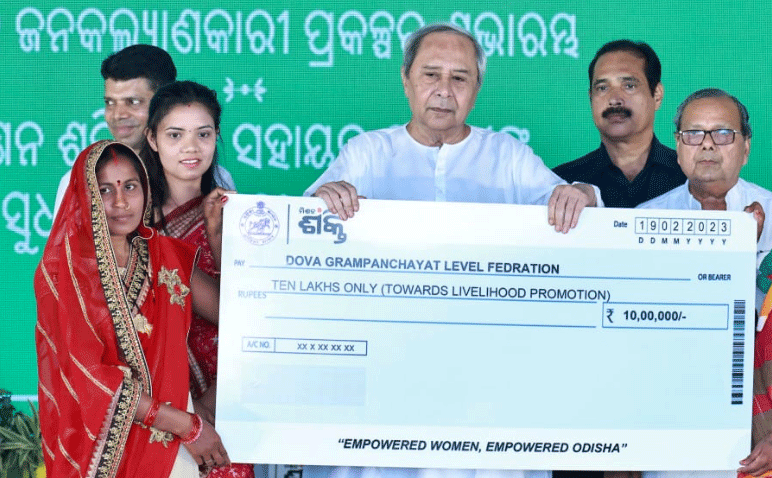 Bargarh: Chief Minister Naveen Patnaik on Sunday announced that Padampur will get district status within a year.
"I announced about Padampur district last December. This must be done within one year," the Chief Minister announced at a public meeting during his visit to Padampur Assembly constituency.
The Chief Minister also visited Jharbandh and Paikmal in Bargarh district.
Shri Patnaik during his day-long visit inaugurated a number of welfare projects in the area.
He disbursed financial assistance of Rs 1.23 crore to Self Help Groups (SHGs) members in the region.
"Our mothers are doing very well in the Mission Shakti groups. Rs 1.23 crore is being distributed to the women members of the self-help groups. I hope you will become good entrepreneurs with this money," the Chief Minister said.
He said that he had promised several things to the Padampur constituency during his last visit.
"Out of that Paikmal Primary Health Center has been converted into Community Health Center and Dhachakra dam work has already started. Land for 133/11 KV substation has been identified. I believe in action, not words," he said.
Addressing a gathering at Paikamal, the Chief Minister said, "I have sanctioned Rs 64 crore for the development of your region. You had met me during the last by-election. You have given me a proposal for the development of every panchayat, every NAC and every ward. I am happy that this money has been sanctioned based on that proposal. Sanctioning money based on people's proposals is the first in the history of Odisha. I fully believe it will help in the development of the region."
In an apparent dig at Union Ministers who campaigned in the constituency during the by-election, Patnaik said that they had been assured about railway projects, kendu leaf subsidy, crop insurance and other issues.
"I pray to Lord Nrusinghanath to make sure that the Union Ministers remember such assurances," he added.
Notably, an action committee demanding district status for Padampur had met Patnaik at his residence in Bhubaneswar in November 2022. After their discussion with the Chief Minister, the action committee members had said that the Chief Minister has assured them to accord district status to Padampur sub-division of Bargarh by December end this year.