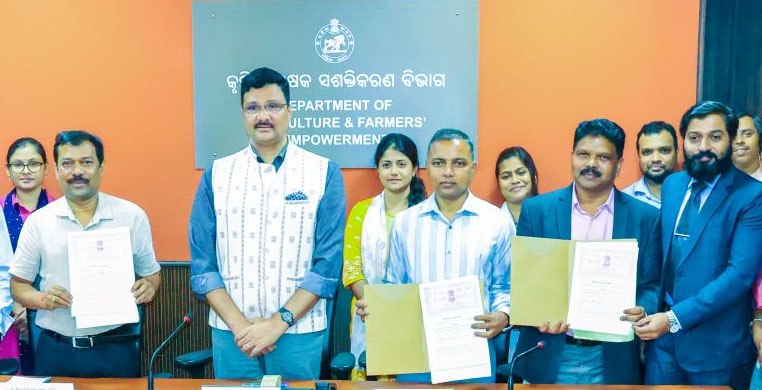 Bhubaneswar: In a significant step towards standardising packaging practices of Millet Shakti products, a tripartite Memorandum of Agreement (MOA) was signed among Department of Agriculture and Farmers' Empowerment (DA&FE), Mission Shakti Department and Indian Institute of Packaging (IIP) here at Krishi Bhawan today.
The duration of the partnership is for a period of three years i.e. from April 2023 to March 2026.
Prem Chandra Choudhary, Director, Directorate of Agriculture & Food Production (DA&FP), Binod Kumar Jena, Joint Secretary, Mission Shakti, and Babu Rao Guduri, Joint Director, IIP, signed the MOA in the presence of Arabinda Padhee, Principal Secretary, DA&FE.
The purpose of the partnership will include identification, design and development of suitable packaging solutions for agriculture products, processed food products and non-farm products of SHGs, Producer Groups (PGs) & Producer Companies (PCs) promoted under Mission Shakti.
It will also facilitate and organise capacity building training programmes on packaging technology for officials of the Directorate of Agriculture & Food Production, Department of Mission Shakti and WSHGs for targeting local, high value and export markets, officials said.
Speaking on the occasion, Principal Secretary Dr. Padhee said, "Odisha Millet Mission and the Department of Mission Shakti work closely, and Millet Shakti is a joint initiative of the two departments. In Odisha, women self-help groups are producing a variety of products. However, they face challenges in packaging their products. We believe that this partnership with the Indian Institute of Packaging will bring about significant change and add value to their products."
He also invited officials from the Indian Institute of Packaging to the International Convention scheduled to be held on November 9th and 10th, 2023. He requested them to set up a stall at the venue to provide people with an opportunity to learn about packaging.
Director Chaudhary said, "In this initiative, Mission Shakti is our natural partner as SHGs are the ones who are preparing the products. We are very hopeful that IIP will significantly enhance the packaging of these products. We also urge IIP officials to explore how packaging can be done using locally available raw materials."
In his address, Mission Shakti Joint Secretary Binod Kumar Jena said, "We have lakhs of SHGs in Odisha producing a large number of products. However, the area where we fall short is packaging. The SHG members require training and support to enhance their packaging capabilities. We believe that IIP, being a pioneer in this field, can assist our SHGs in this regard. Once this happens, it will help millet SHGs to become millet SMEs (Small and Medium Enterprises)."
Providing an overview of IIP and its potential to enhance the packaging of Millet Shakti products, Dr. Babu Rao Guduri, Joint Director, Indian Institute of Packaging, said, "IIP has been operating in India since 1966 and has gained expertise in the field of packaging. We have collaborated with other states to improve the packaging of various products. We are delighted to be a part of this agreement and committed to providing full support to ensure that the products prepared by SHGs are packaged in the best and most distinctive ways."
According to the agreement, the DA&FP will undertake several measures, including developing an action plan in consultation with Mission Shakti and IIP, arranging site visits to various project locations, facilitating participation in district, state, and national events such as fairs, melas, and buyer-seller meets, monitoring the programme at the state level on a quarterly basis in collaboration with Mission Shakti.