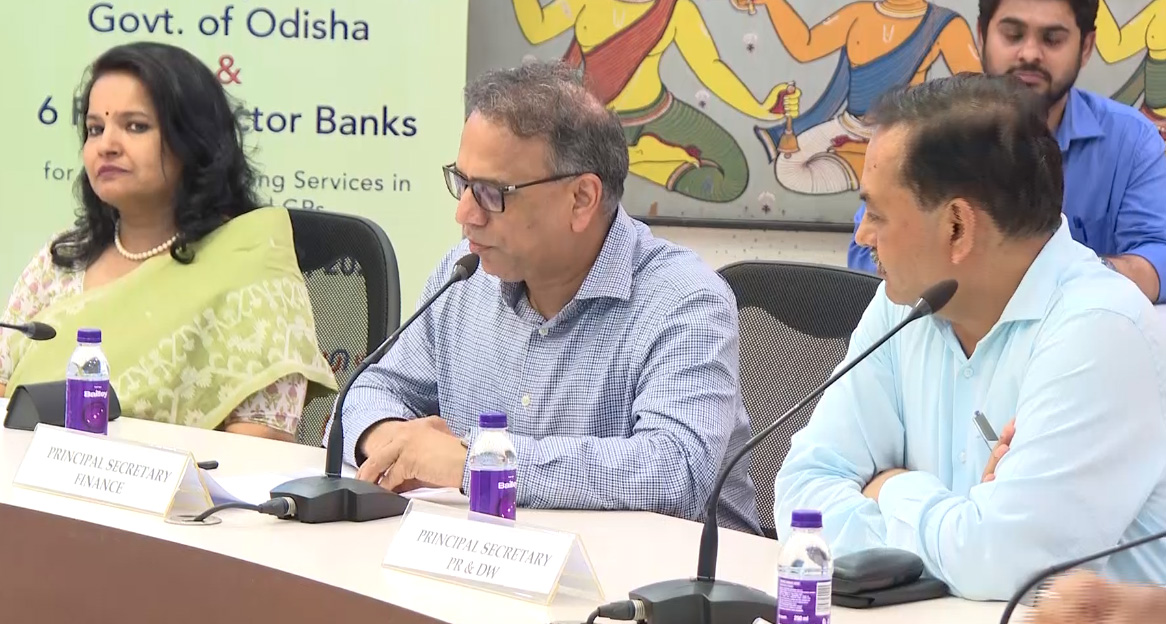 Bhubaneswar: Odisha Government has entered into a Memorandum of Understanding (MoU) with Six Public Sector Banks, namely State Bank of India, Punjab National Bank, Union Bank of India, UCO Bank, Bank of India and Bank of Baroda for providing banking services in all unbanked Gram Panchayats of the State through CSP Plus banking outlets.
Department of Finance is leading from the front in this initiative as Financial Inclusion is a high priority agenda of the Government.
Minister Finance, Bikram Kesari Arukha, Development Commissioner Anu Garg, Principal Secretary Finance, Vishal Dev and other senior Mandarins were present along with the Top Officials of these Banks.
Vishal Dev, Principal Secretary Finance said that Financial Inclusion is still a critical challenge since banking penetration in the state is quite low and not uniform across the districts.

Out of 6798 GPs, around 65% of GPs (4373 GPs) do not have brick and mortar branches. Since banking is an essential service for financial inclusion, every GP of the State needs to be provided with a brick and mortar branch for easy access to banking services and strengthening the Direct Benefit Transfer system in the State.
Shri Dev said that aovernment of Odisha has therefore come forward with an ambitious scheme for providing banking services to every GP through CSP Plus banking outlets. The scheme will be implemented in a phased manner to cover all unbanked GPs of the State with in the current financial year 2023-24. Government of Odisha will provide rent free banking space for 5 years. The State Government will also bear one-time expenses for Fixed Cost & Recurring expenses for a period of three years. A provision of Rs. 500 Cr. has been made for the scheme.
Principal Secretary Finance Shri Dev said thaty this is one of the land mark initiatives by any State Government to transform financial inclusion and take it to the next level in line with the 5T Mantra of CM. Odisha is the first State in the entire country to adopt such an exemplary model for providing banking services to all GPs.
People residing in all Unbanked Gram Panchayats of the State will have easy access to all kinds of banking services, free of cost. Senior citizens, differently abled people and pregnant women will get door step banking services and avail the Direct Benefit Transfer of the Government in a timely manner, said Shri Dev.