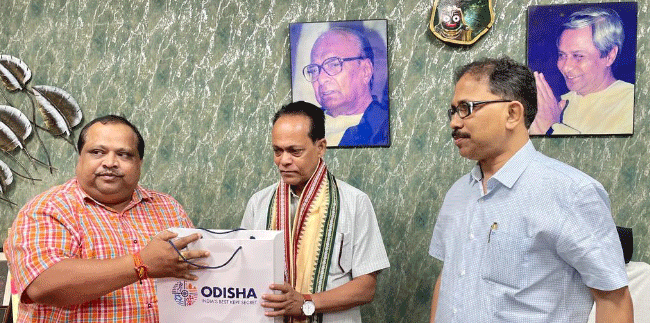 Bhubaneswar: Appreciation Ceremony for Odisha's content creators in the field of food, travel, art, and culture was organized today by Odisha Tourism in association with Odisha Tourism Development Corporation, Foodies of Bhubaneswar and Chalo Odisha at Panthanivas Bhubaneswar.
Chairman OTDC Lenin Mohanty inaugurated the event graced by eminent personalities from the field of art – Ollywood actor Sabyasachi Mishra and Odia Rapper Big Deal along with senior officials of Odisha Tourism and OTDC interacting and felicitating around 100 Content Creators across Odisha from the field of Travel, Comedy, Art, Culture and Cuisine.
Highlighting the role content creators play as influencers Chairman OTDC Dr. Mohanty said, "The role of today's generation is as much important for promotion of Odisha as a hub of tourism and culture as that of the Government. The amazing content put out by digital content creators present here today not only entertains but spreads awareness on the various offerings Odisha has – be it scenic destination, food, its people, culture, etc. The influence such kind of experiential content has is more impactful than traditional forms of marketing. I thank the blogging community present here who have time and again through their content helped in not only the transformation of brand Odisha in the minds of travelers but also in aiding livelihood development of the local community members".
Community blogging handles Foodies of Bhubaneswar and Chalo Odisha were credited with bringing together food and travel bloggers for promotion of Odisha and its many offerings via their Social Media handles. A round of interactive session was held which had discussions on various ways to digitally promote tourism in Odisha with the event becoming a platform for content creators to network, exchange ideas, and gain inspiration.
Financial Advisor (FA) Tourism R K Palei, OSD Tourism Ansuman Rath, and other senior Officials of Odisha Tourism and OTDC were present on the occasion. The event concluded with a special Odia cuisine buffet made available for guests and attendees.