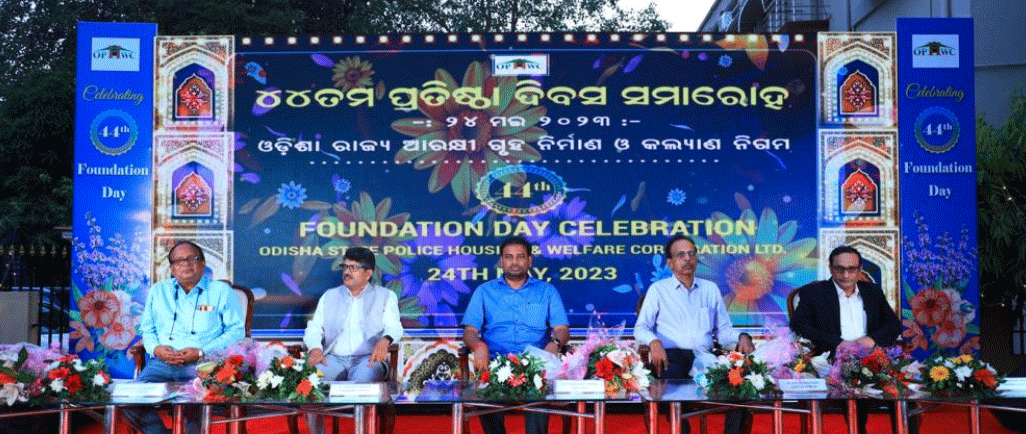 Bhubaneswar: Odisha State Police Housing and Welfare Corporation Limited (OSPHWC) is scaling new heights with 'Record Turnover' and 'High Growth'.
While OSPHWC celebrated its 44th Foundation day on 24 May, 2023 at Police Housing Corporation Premises, Bhoi Nagar, Janpath, Bhubaneswar, it came to fore that the Mega PSU of the State Government has recorded more profits.
The Foundation Day event was graced by the Minister for Electronics & IT, Sports & Youth services and Minister of State, Home, Tusharakanti Behera, as Chief Guest. CA Siva Prasada Padhi, Retired Director of Finance, Neelachal Ispat Nigam Limited was the Guest of Honor.
The function was also attended by a large number of dignitaries from construction industry and employees of the Corporation.
Minister Shri Behera lauded the Management of the Corporation as it is making Profit year after year and also lauded the efforts of the Corporation for executing the work in other departments like Higher Education, OSRTC, ST & SC Development Department, Excise Department, Health Department in addition to the work of Home Department.
He suggested the Corporation to expand its area of operation beyond Odisha in future and bring laurels to the state.
Chairman cum Managing Director (CMD) Sanjeeb Panda has informed the gathering that in the Financial Year 2022-23 the Corporation has achieved its highest ever Turnover of Rs. 525 Crores with a growth of 40% over previous year with gross profit of Rs. 35 Crores.
The Corporation automated all its operation through SAP Software. In the current financial year the Corporation will pay dividend to a tune of Rs. 7.5 Crores to the State Government.
The Company is undertaking the construction of Model Jail at Jamujhari with a cost of Rs. 300 Crores. Besides, the whole process in the Corporation is being upgraded to advanced software SAP HANA and it will further enhance the capability of the Corporation.
The contractors for whom a Mobile APP is also being developed to do all operations like submission of bills, grievances, bill payments etc in a paperless form. The User departments will be provided Utilisation Certificates every month automatically.
Minister then handed out the prizes and mementos to the best performers of the Corporation. Electrical Division and Sambalpur Division were adjudged as the best divisions.
The Chief Engineer of the Corporation has given the welcome speech when the Company Secretary has delivered the vote of thanks to the dignitaries.