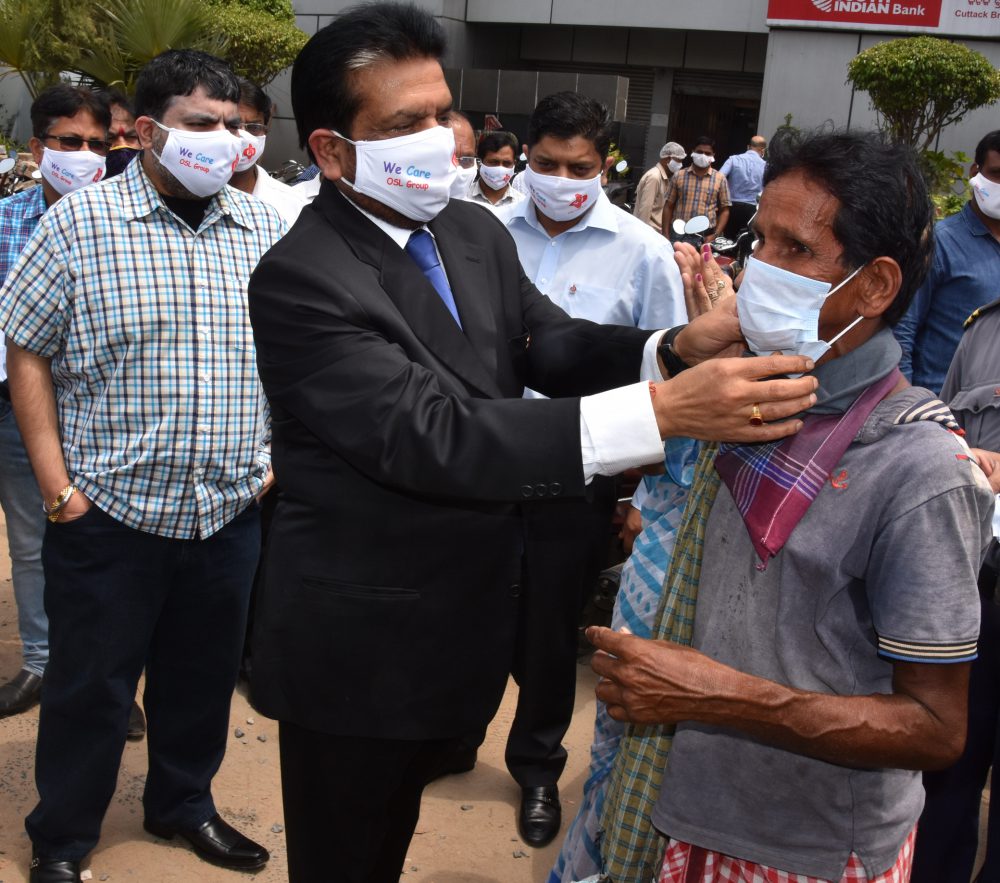 Cuttack : In order to raise awareness among the people, Major Corporate House in the Eastern State of India, Odisha Stevedores Limited (OSL) has decided to distribute One Lakh Masks free of cost among the people.
Humbly Endorsing Chief Minister, Naveen Patnaik's clarion call for 14-days 'Mask Abhiyan' a move to keep COVID-19 Pandemic at bay, Odisha based Corporate House, OSL came forward to distribute free masks among the common men and women.
OSL is the first Corporate House, which responded to the urge of the Chief Minister for using face masks in COVID-19 Pandemic and came forward to distribute the same among the general mass across the State.
Chairman OSL Mahima Mishra, known for his humanitarian approach distributed free masks to the general public for creating awareness on use of masks in the Pandemic.
On this occasion, Mr.Mishra, an ace philanthropist said that OSL aims to distribute one lakh masks among the poor and needy people in this fortnight long drive for wearing masks.
OSL which has all along supported social cause during last three decades of its existence has immediately initiated this massive mask distribution drive in Odisha, after Hon'ble Chief Minister gave a call urging people to wear mask in COVID-19 Pandemic.
In a special program was organized today in front of OSL Corporate Office, Chairman OSL Mahimananda Mishra launched this drive by distributing masks to the needy, poor and common men and women.

Among others Directors OSL Chandan Mishra, Charchit Mishra and Director (Finance) Chinmaya Mishra were present in the mask distribution ceremony.
OSL Group is also going to organize two days Corporate Vaccination program where 260 OSL staffs across the state will be vaccinated. The Group has also conducted RT-PCR test of 217 staff of OSL recently.
Supporting to the 14-days Mask Abhiyan Chairman, OSL Mr.Mishra said "OSL Group is fully committed for the cause of the State, which is facing COVID-19 Pandemic and accordingly extending its support to the Chief Minister's 'Mask Abhiyan'.  We started this drive today in Cuttack and will distribute masks in the other parts OSL operation area across the India. We are appealing to all the Corporates to come out and extend their support in this period of crisis generated due to COVID-19 Pandemic".