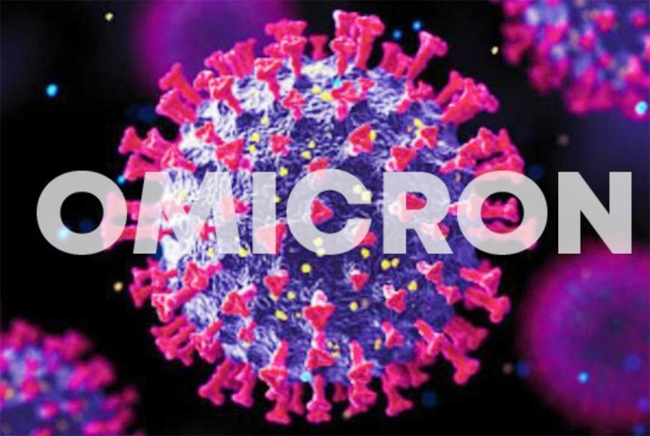 Bhubaneswar: Omicron, the highly-transmissible variant of Coronavirus, has replaced the Delta variant in Odisha. This was revealed from the latest genome sequencing report of the Institute of Life Sciences (ILS), Bhubaneswar.
As per the report, out of 241 samples sequenced in between January 27 and February 4, Omicron was detected from 235 samples while Delta variant was found only in 6 samples. It means about 98 per cent of the total samples sent for genome sequencing are found to be Omicron one.
Out of the detected Omicron cases, six are found to be BA.1, 12 as BA.1.1 and 217 BA.2.
As many as 13 out of 14 samples received from Angul district were found with Omicron BA.2 variant. Similarly, 27 Omicron cases were found among 30 samples received from Cuttack district. Out of the 49 samples from Khordha district, 45 were tested with Omicron.
Apart from Khurda, Nayagah and Puri district have recorded two non-Omicron cases.
All 47 samples of Ganjam district were found to be infected with the Omicron variant. All 16 samples from Gajapati and 12 from Jagatsinghpur districts were found to be infected with the Omicron variant.
Besides, Jajpur (8), Kalahandi (5), Kendrapada (12), Mayurbhanj (17), Nabarangpur (16), Sundergarh (3) and Rayagada (1) scored 100 % with the detection of Omicron during the genome sequencing.
Meanwhile, the State on Friday logged 1,572 new COVID-19 cases, an increase of around 7% infection than the previous day with Test Positivity Rate (TPR) dropping 2.30% as the State is currently witnessing a gradual slowdown of the disease.
On the other hand, the fatality trajectory is on a steady rise with 20 more succumbing to infection in the last 24 hours. The cumulative death toll in the State now stands at 8,838.
With the latest daily infection, the cumulative infection tally has climbed to 12,74,575, while the State currently has 14,253 active cases.
While 309 positive cases are from the 0-18 year age group among the new infections, the recoveries on Thursday have surpassed the daily cases, marking the steady decline in infection.
A total of 12,51,431 patients have recovered from the disease so far, including 3,279 in the past 24 hours. The State has so far registered 347 Omicron variants.
Khurda district reported the highest number of new cases at 233, followed by Cuttack (161) and Sundargarh (113).
All the 30 districts in the State currently have active cases while Khordha with over 2,500 active cases is placed in the red zone. Sundargarh districts with above 1,000 active cases are bracketed in the yellow zone category while the remaining 28 districts figure in the green zone with fewer than 1,000 active cases.
The State's recovery rate currently stands at 98.18% while active cases account for 1.11% of total positive cases registered in the State.