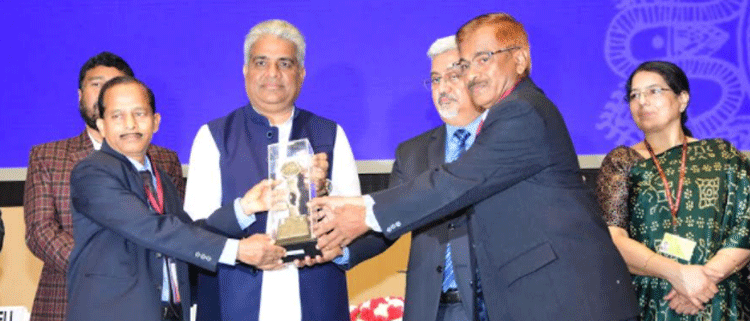 Bhubaneswar: Top Mandarin Balwant Singh is in a happy mode as the South Kaliapani Chromite Mines of Odisha Mining Corporation Limited (OMC) has been conferred with the prestigious National Safety Award (Mines).
Managing Director OMC Mr.Singh is happy because OMC has earned laurels for the contest year 2018 and 2020 by Ministry of Labour & Employment, Government of India.
Bhupender Yadav, Union Minister of Labour & Employment presented the award at Vigyan Bhawan, New Delhi on 8 March 2022 in the "Lowest Injury Frequency Rate of the Mechanized Opencast with man shift" category.
OMC, a wholly owned Corporation by Government of Odisha, strictly follows safe work practices to achieve "Zero Harm" and continuously assesses the health and safety preparedness in mines. The Apex OHSE Council Meet, complemented by Implementation Council Meeting of each region, has been instrumental in improving safety parameters in the mines.

To further strengthen the standard of safety and to inculcate culture of Safety, the present Financial Year 2021-22 has been declared as Safety Year at OMC.
As part of this campaign, special focus was given to activities like awareness of different components of safety like use of PPEs, Quarry Dump & stock-pile safety, Dispatch Safety, HEMM & Plant, Safety, Electrical Safety Contract management, Drilling & Blasting, Fire, Dust & Noise Safety, Welfare Amenities & Office Safety.
Ministry of Labour & Employment, Government of India, instituted the National Safety Awards (Mines) in 1983, to promote a competitive spirit amongst mine operators for the betterment of safety standards in mines and give due recognition to outstanding safety performance at the national level.