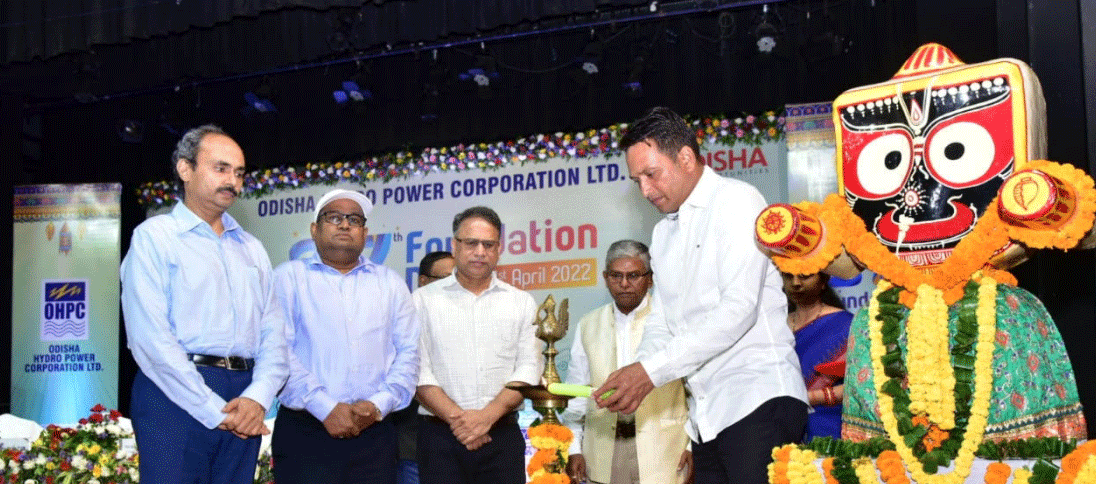 Bhubaneswar: Odisha Power Generation Corporation (OHPC) has been one of the cheapest energy generating power corporations that contributes around 20 Percent of total electricity consumption of the state and takes care of around 25pc of peak power demand, said its Chairman, Bishnupada Sethi.
Chairman Mr.Sethi said this while addressing the function organized to commemorate the 27th foundation day of this corporation at Rabindra Mandap here on Thursday.
Dibya Shankar Mishra, Minister Energy, Vishal Kumar Dev, Principal Secretary, Finance Hemant Sharma, Principal Secretary, Industries, Skill Development & Technical Education Dept. also addressed the gathering
He further said that this uninterrupted contribution is pivotal to the operational reliability of Odisha power system. The success of OHPC is the manifestation of the original vision of the power sector programme of the Odisha Government converted into an extraordinary meaningful and measurable success story, he said.
"OHPC has created new benchmarks in generation, modernisation, establishment of new projects and social commitments. OHPC Ltd. has put thrust on increasing generation capacity of existing units along with exploring development of new projects such as pump storage power plants. It has not left any stone unturned for the capacity upgradation of existing power stations by way of Renovation and Modernization of three power stations i.e. Unit #3 of CHEP, Chiplima , Unit #5 & #6 of HHEP, Burla, BHEP & Unit #1 to #6 of Balimela," he said.
Maintaining its main objective of generating cheap and green hydro energy and supporting Grid stability, OHPC during its journey has also diversified itself by venturing into several subsidiaries and joint-ventures such as GEDCOL- a wholly owned subsidiary having 26 MW installed capacity of Solar energy and 6 MW in pipe line, GSPCL- a JV with SAIL with objective of executing 10 MW Mandira small hydro-electric project, OCPL- a JV with OPGC for availing benefit of coal block under Govt. route for uninterrupted supply of quality coal to OPGC power plant. OHPC has also acquired 49pc of equity shares of OPGC earlier held by a private investor thereby supporting and forming it as an associate company of OHPC, he said.
Apart from generating power, OHPC is committed to the development of the state and welfare of its people through corporate social programs at its project and other areas, the Chairman said adding that through its own CSR policy it has been carrying out a number of activities in the field of Rural Development, Education, Livelihood, Healthcare, Infrastructure development, Preservation of state's ancient culture and tradition and creating a socio-economic balance in remote areas. Some of the major activities OHPC are financial assistance for setting up COVID-19 hospital in Gajapati and Balasore districts, two 60 seated motor launches at Balimela reservoir for the communication of cut-off area tribal people, funding different schools of the state under 'Mo School Abhijan', financial assistance to different ITIs & colleges, help in development of stadium at Junagarh etc., he said.