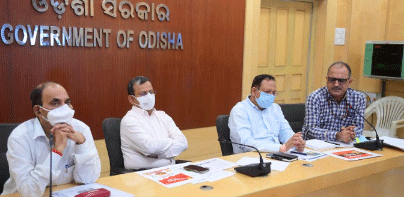 Bhubaneswar: Odisha Government will work out a joint marketing frame (JMF) with national agricultural cooperative marketing federation of India (NAFED).
Role of NAFED in Odisha and possibilities of further collaboration with it in a high level meeting chaired by Chief Secretary SC Mahapatra wherein MD NAFED Sanjeev Chadha participated.
Considering the possibilities for joint marketing of cash crops, Mr.Mahapatra directed the departments of Agriculture, Horticulture, Scheduled Tribe and Scheduled Caste Development to identify the cash-crops which can be promoted for enhancing the famers' income.
It was discussed that some varieties of fruits, vegetables, pulses, oilseeds, millets could be produced and marketed on large scale in collaboration with NAFED. Mango, jack-fruit, pine apple, watermelon, pumpkin, elephanta-potato, ginger, arher, ragi, peanuts, sunflower, green gram, black gram, Bengal gram, sweet corn, mandia, bajara, maize, toor k-18, scented rice (Baasumati), mustard, chilly, brinjal, turmeric, dhaniaa, potato, onion could be marketed in collaboration with NAFED.
NAFED Managing Director mentioned that NAFED as a farmers' cooperative is also the nodal agency of Government of India for implementation of price support schemes and price stabilization schemes.
The Federation would provide different support and assistances to farmers for cultivation, procurement, branding and marketing of the cash crops in collaboration with the State agencies.
Further, Chief Secretary Mahapatra advised to promote minor millets as super food throughout the country. Odisha produces many organic millets, fruits and vegetables.
The tribal population in 119 TSP blocks and 22 ITDAs are mostly accustomed with production of organic varieties which could be marketed under special brand.
Organic cultivation clusters have also been created in the districts like Koraput, Rayagada and Kandhamal.
Mr.Mahapatra also directed that the JMF should have FPOs, SHGs, PACS and ITDAs as the active partners in up-scaling the cultivation of cash crops and procurement of the produces directly from the farmers. Such strategies, he added, would prevent the possibilities of distress sale and entering in of unscrupulous middle men.
Development Commissioner Pradeep Kumar Jena, Additional Chief Secretary and Agriculture Production Commission Raj Kumar Sharma, Principal Secretary Cooperation Vir Vikram Yadav, Secretary Agriculture Suresh Kumar Vashistha, Director Scheduled Tribe and Scheduled Caste Guha Poonam, Director Agriculture M Muthukumar along with senior officers of concerned departments participated in the deliberations.