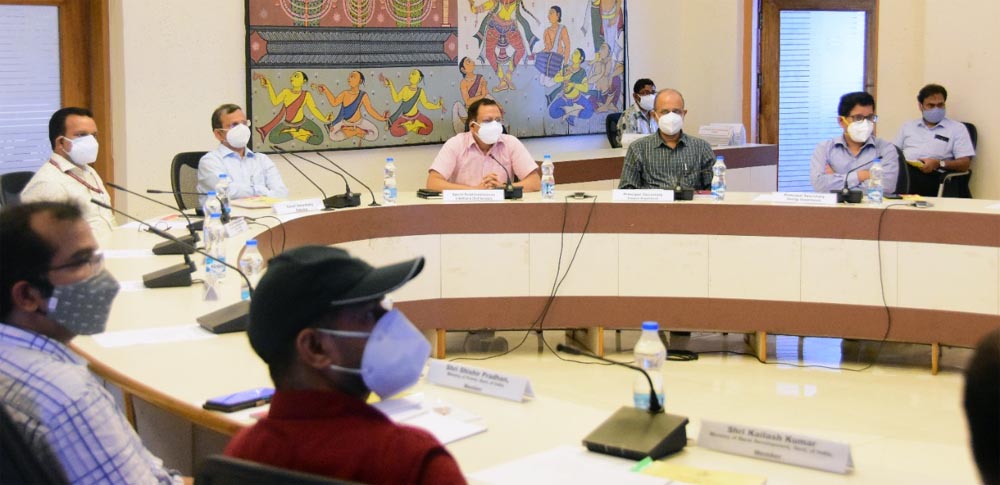 Bhubaneswar: The State Government on Tuesday again raised its demand for creation of disaster resilient infrastructure in costal districts to mitigate cyclones and high tidal waves.
Senior officers of the Odisha Government have raised this issue during their meeting with the inter-ministerial Central team, which was in Odisha to access the damage occurred due to cyclone YAAS.
Before leaving for New Delhi, the Team headed by Ministry of Home Affairs Joint Secretary Sunil Kumar Barnwal held a meeting with Top Brass of State Administration.
Chief Secretary SC Mahapatra, Special Relief Commissioner (SRC) PK Jena and many other senior officers present in the meeting here this afternoon.
"During the meeting we have discussed in detail about the requirement for strengthening of the coastal embankments, roads and electricity system," Mr.Mahapatra said after the meeting.
"Our Chief Minister has already stated that we don't need fund for the restoration work. We can meet the requirement from funds available with us. The State has only two major requirements. One is disaster resilient power infrastructure and second is construction of high-embankment in coastal area to deal with high tide surges," he said.
The State Government is preparing a detail project report (DPR) in this regard while the Centre is also preparing guidelines for use of disaster mitigation fund for this purpose, the Chief Secretary said.
He further said, "After issuance of the guidelines, we will submit out DPR to the Centre so that we can have a power network and embankments to resist cyclone in next few years. This will minimize the loss, if any cyclone hits Odisha in future."
As per damage is concerned, the state government is preparing a memorandum, which will be submitted to the Government of India in next three to four days, Mr.Mahapatra added.
The Central Team Members visited cyclone affected Balasore, Bhadrak, Kendrapada and Mayurbhanj districts on Monday and Tuesday to assess the damages occurred due to the cyclone YAAS that hit North Odisha coast on 26 May morning. The Central Panel will submit their report to the MHA soon, sources said.
In June last year, in the aftermath of cyclone Amphan, State had submitted a memorandum to the Centre seeking an assistance of about Rs 16,000-crore for the creation of a disaster-resilient infrastructure in the State. While Rs 11,114 crore was sought to strengthen power distribution transmission networks in coastal areas, Rs 4,152 crore for housing sector, Rs 767 crore to strengthen coastal embankments.