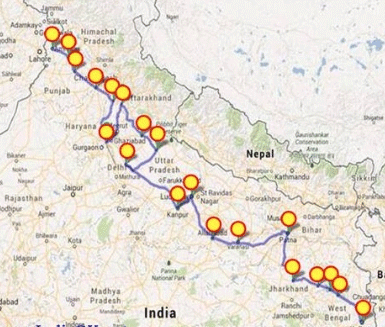 Bhubaneswar: The State Government has urged the Centre to establish the Eastern Industrial Corridor through Odisha.
This will not only make the Freight Corridor economically viable, but also it will provide forward and backward linkage for the Industrial Hinterlands.
While the Eastern Freight Corridor from Amritsar to Kolkata is coming up, that will be economically viable once it is connected to Deep Water Ports, said the State Government.
In a Memorandum, the State Government has pointed out that Amritsar-Kolkata Industrial Corridor is needed to be extended to Vishakhapatnam passing through Odisha.
This will make the Industrial Corridor economically viable and it will connect major industrial centers for which this is being set up.
The Dedicated Freight Corridor Corporation of India Limited (DFCCIL) is setting up Amritsar-Kolkata Industrial Corridor, which will be complete soon, officials say.
Government of India have formulated the concept of Five Industrial and Economic Corridors like Delhi-Mumbai Industrial Corridor (DMIC), Bengaluru-Mumbai Economic Corridor(BMEC), Chennai-Bengaluru Industrial Corridor(CBIC), Vishakhapatnam-Chennai Industrial Corridor(VCIC) and Amritsar-Kolkata Industrial Corridor(AKIC).
This is being done to realize the objective of Make- In- India Program through an arterial modality such as Highway or Railway along with feeder roads with Railways providing various transport options for goods and workers.
In view of the flow of investment to the State in Mineral, Metal, Mining, Power and various Manufacturing Sectors, the State Government is focusing on Infrastructure Development and creation of Dedicated Industrial Trade Corridors inside the State.
However, in order to link these internal feeder roads and railway lines to the proposed Industrial Corridors, there is a need to extend the Amritsar-Kolkata Industrial Corridor to Vishakhapatnam, so that Vishakhapatnam- Chennai Industrial Corridor can be linked with Kolkata.
This will facilitate a strategic link between the Eastern, Southern, Western and Northern Industrial Corridors of the Country, said the State Government in its' proposal for extension of Eastern Industrial Corridor to Vishakhapatnam.
Accordingly Government of India has been urged to provide a backward and forward linkage for Industrial Hinterlands of Dhamra, Paradip and Gopalpur Ports with the Northern and Central Hinterlands through a Dedicated Industrial Corridor.
In the meantime Indian Railways is planning to build nearly 4,000-km Dedicated Freight Corridor (DFC) connecting industrial areas in the eastern and western parts of the country to southern India through major ports in Odisha and Andhra Pradesh, sources said.
These DFCs are — 1,115-km East Coast Corridor from Kharagpur (West Bengal) to Vijayawada (Andhra Pradesh); the East-West Corridor which comprises 1,673 km connecting Bhusaval-Nagpur-Kharagpur-Dankuni (near Kolkata) route, and 195-km Rajkharswan-Kalipahari-Andal (West Bengal) route.
The third is the 975-km North South Sub-Corridor Vijayawada-Nagpur-Itarsi (Madhya Pradesh) route.
These Corridors will provide connectivity to Paradeep, Dhamra, Gopalpur Ports in Odisha and Vishakhapatnam, Gangavaram, Kakinada, Krishnapatnam and Machhalipatanam ports in Andhra Pradesh, ensuring faster movement of goods and capacity enhancement in the over-saturated sections of the railway network.
In a major boost to development of Odisha, the proposed Kharagpur-Vijayawada DFC will pass through the Kalinga Nagar Industrial Zone, connecting it with Southern India.
The Kalinga Nagar Industrial Zone will by then already be connected with the Western India through the Eastern Dedicated Freight Corridor.
The Kalinga Nagar Industrial Zone has ferrochrome and alloy industries, sponge iron plants, steel companies like Tata Steel, Neelachal Ispat Nigam Ltd., Mesco Ispat & Steel Ltd., Jindal Stainless Steel Ltd., Yazdani Steel & Power and other major industries.
Similarly, Angul, which houses aluminium industries, thermal power plants, heavy water plant, coal fields and iron and steel plants, will get an impetus with the new East West Sub Corridor, connecting it to the Western India as well as the Coalfields of the Eastern India, said sources.