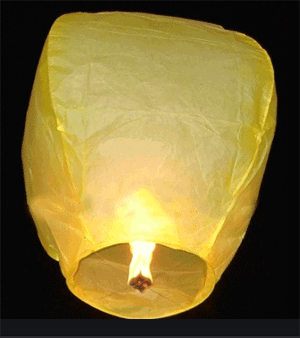 Odisha Saturday observed a silent Depabali festival with people at large refraining from fireworks this time in wake of the ban on sale and use of crackers across the state.
Though there was absolutely no noise due to cracker brusting in atmosphere, the skies of Odisha, however, witnessed sky lanterns  making round in the night.
"If there were 100 cracker bursting per hour in previous years, this had been only five this time," said a senior citizen in state capital's IRC Village area, known for massive fireworks every year during Deepabali.
The situation was more or less same in all the major cities of the state also in rural parts. There was no sound, it was silent Depabali this time, one can conclude.
This has been possible for the law-abiding people of Odisha even though the state government had banned the sale and use of fire crackers due to COVID 19 pandemic.
The ban has come as a blessings for the people, particularly those suffering from asthma and other breathing related aliment. The changed situation has led to no pollution across the state.
This year's Depabali and Kali puja were celebrated with 'dipas' (earthen lamps), candles and decorative electric lights illuminated houses creating the festive spirit.
People lighted diyas and candles and switched on decorative electric lights as evening set in, but the sight and sound of fireworks were missing till late evening, unlike previous years.
Governor Ganeshi Lal and Chief Minister Naveen Patnaik wished people on the occasions. Earlier, Naveen had people to refrain from using crackers.
In a special message, Naveen on occasion of the Children's Day tried to convince boys and girls not to worry for not being able to celebrate the Dipabali with crackers. "Next year you will celebrate after availability of vaccines against coronavirus," the Chief Minister said. What has actually pained the people is that the government put restrictions on lighting "Kaunria" as a ritual to appease forefathers in front of Shree Jagannath Temple in Puri.
Though people were allowed to perform "Pinda Dan" outside the 12th century shrine, they could not lit the traditional "Kaunira Kathi" for their forefathers.
The District Administration banned it keeping in view the emission of smoke due to burning of "Kaunria Kathi."
Similarly, many people also expressed displeasure over not being able to perform "Sradha" near Bindusagar tank close to Shree Lingaraj Temple in Bhubaneswar.   
 It is good to ban bursting of crackers, but not preventing people to perform rituals.