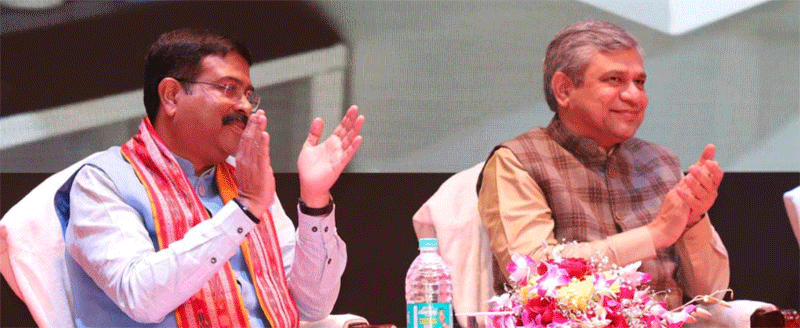 Bhubaneswar: As per his announcement made earlier, Union IT Minister Ashwini Vaishnaw along with Union Education Minister Dharmendra Pradhan on Thursday launched high-speed fifth generation (5G) telecom service in Odisha.   
The Temple City Bhubaneswar became the first city in Odisha to get 5G services starting today. The service was launched at a special event organised here at SOA University.
Prime Minister Narendra Modi launched the 5G service nation-wide in October. Odisha is the first state, where 5G services are unveiled in the first phase of national launch. Much before the first phase deadline (March, 2023), the service has been rolled out in Odisha, as per promise made earlier, said Shri Vaishnaw., adding, 5G service has been rolled out in Odisha only for Prime Minister Modi.
"When I requested PM Modi to allocate telecom towers for Odisha. Modi instructed me to sanction the required number of towers for Odisha," he said.
The Modi Government has allocated Rs 5600 crore for development of telecom connectivity in the state. About 5000 telecom towers will be set up in the rural areas, which will connect about 7,000 villages, the IT Minister said.  
Shri Vaishanaw said Union Education Minister Dharmendra Pradhan has informed him that an independent course on 5G will be introduced in the All India Council for Technical Education (AICTE) curriculum soon.
Speaking to reporters on the side-line of the event, the Union Communication Minister said the Modi government has allocated Rs 1080 crore to provide broadband connectivity to every village and school of Odisha.
"We have set a target to cover all places of Odisha with 5G connectivity within next two years," he said, adding, 5,000 towers will be set up within the next 18 months. By August 2024, all villages of Odisha will have telecom connectivity. BSNL will start 5G service by 2024, he stated.
For development of the IT industry in Odisha, software technology parks will be set up at eight locations, Bhubaneswar, Rourkela, Berhampur, Balasore, Angul, Koraput, Jajpur and Sambalpur by December 2023, he announced.
Shri Pradhan said 5G service will act as a game-changer for Odisha as it will help tremendously in the education, health and telemedicine sectors.  
For revival of BSNL, the Centre has allocated Rs 1.64 lakh crore. Perhaps, such a huge amount of funds has not been infused to any public sector undertaking in the recent past, Shri Pradhan said.
On this occasion, Reliance Jio and Bhubaneswar-based SOA University also signed a Memorandum of Understanding (MoU) on building a 5G laboratory and collaboration on relevant use cases.
The Union Minister also dedicated 100 telecom towers set up in different locales across the State.
Meanwhile, addressing a press meet earlier in the day, BJD MP and party's National Spokesperson, Amar Patnaik said, "While we will cooperate with the Centre on the launch of the 5G services for its successful implementation, the problem is that it is not going to address the core issues of these deficits, particularly in the rural areas & hence, denial of benefits in rural areas due to its adoption and launch."
As per the latest report of TRAI, the overall tele-density of Odisha is 75.23% which is within the bottom five of all Indian States. Even the North-east has higher tele-density at 77.98% and J&K at 88.18%. The national average is 85.11%.
From this report, one can imagine that when there isn't even access to telephone services, talking of 4G or 5G service being introduced in the State is only tall talk. It will further exacerbate the digital inequity between the states, Dr.Patnaik said.
The rural tele-density in Odisha is only 62.73%. Therefore, the benefits will come only to urban areas and not to rural areas.
Similarly, he said, internet subscriptions for 100 people in the rural areas of Odisha stand at 34.51%; it is 88.98 % in case of urban areas. Out of 310 Gram Panchayats in Kalahandi district alone, 81 Gram Panchayats don't have internet connectivity.
The BJD leader said KBK is a cluster of eight tribal districts in Odisha. 7 of these districts are a part of Aspirational districts of Niti Aayog. But most of these areas suffer even lower tele-density despite having historical backwardness.
Out of 51,311 villages in the State, 11,000 villages do not have mobile connectivity. Out of these, 10,000 villages come under LWE affected areas. 6278 villages in Odisha are still without any mobile access or connectivity – the largest number in the country, he added.
As for the quality of even the existing internet services, people in Odisha have to climb trees or climb up mountains to connect to telecom networks, forget about digital services.
About 2500 mobile based towers will be required to provide coverage to uncovered villages in the State. But only 488 have been sanctioned as of now which means 2000 more mobile based towers will be required, Dr Patnaik said.
This is affecting banking services, education and health services to the people living in these areas. Instead of concentrating on improving this picture, the introduction of new 5G services is not going to ameliorate this condition of denial of improved services and benefits to the rural people of Odisha, most of whom are tribal.
"While we welcome the introduction of 5G services, the Government of India would do well to concentrate more on improving tele-density and internet connectivity (both in numbers and quality) in the rural areas of Odisha, particularly in the 10 districts where most of the people are tribal so that benefits of 5G technology are available to these who deserve it the most", Dr. Patnaik said.