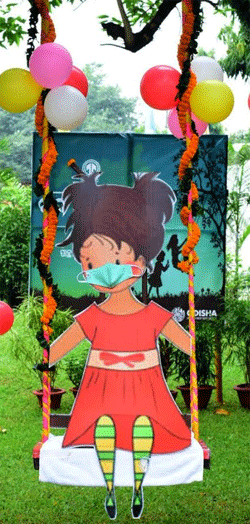 Bhubaneswar: Odia people residing in Odisha and outside celebrating the three-day long Annual Raja Festival in a low key affair due to prevailing COVID-19 Pandemic situation and lockdown restrictions.  
During this period, it is believed that Mother Earth menstruates and prepares herself for future agricultural activities with the arrival of monsoon.
As lockdown restrictions are in force, no social events are organised. However, the festival is being celebrated by people in their houses. The social media like Twitter, Facebook and Instagram flooded with Raja Parba wishes.
Personalities like Prime Minister Narendra Modi, Chief Minister Naveen Patnaik, Governor Ganeshi Lal, Union Home Minister Amit Shah, Petroleum Minister Dharmendra Pradhan, BJP President JP Nadda, State Congress President Niranjan Patnaik and other leaders wished people on this occasion.
"Best wishes on the auspicious occasion of Raja Parba. I pray for the good health and well-being of everyone," Prime Minister Mr.Modi tweeted.
Chief Minister Mr.Patnaik said, "My heartfelt congratulations to all on the occasion of Raja. This is our unique tradition of honouring the greatness of earth, nature and woman. Celebrate it at home with family members in times of Covid crisis. Awareness and cooperation of all will make us victorious in the fight against Covid-19."
Extending greetings of Raja Parba, Union Minister Mr.Pradhan urged people to make it a spcial one by observing it in staying home and following all the Covid-19 norms.
The Odisha Tourism Development Corporation (OTDC) has made special arrangements to provide Pithas during the festival. OTDC Chairperson Shreemayee Mishra said they have launched a special programme named 'Pitha on Wheels'.
"Due to Covid-19, we're celebrating Raja Parba with a very low key. As women don't work during these 3 days 7 vehicles of 'Pitha On wheels' will reach people's doorstep in Bhubaneswar," Ms.Mishra said.
Different kinds of pithas such as 'Poda Pitha', 'Manda', 'Kakara', 'Arisha', 'Chakuli' and 'Chandrakala' have been made available on 'Pitha on Wheels' (kiosks on wheels). These vehicles selling traditional cakes have been stationed in Bhubaneswar, Cuttack and Sambalpur, she added.
During the three day, unmarried girls wear new dresses, play cards and make merry. During all the three consecutive days they are seen in the best of dresses and decorations, eating cakes and rich food at the houses of friends and relatives, spending long cheery hours, moving up and down on improvised swings, rending the village sky with their merry impromptu songs.
Raja Parba or Mithuna Sankranti is a three-day-long festival and the second day signifies the beginning of the solar month of Mithuna from which the season of rains starts.
Though celebrated all over the state it is more enthusiastically observed in all over Odisha but celebrated with much fervour across the coastal districts. The first day is called "Pahili Raja", second is "Raja Sankranti" and third is "Bhumi Dahana or Basi Raja".