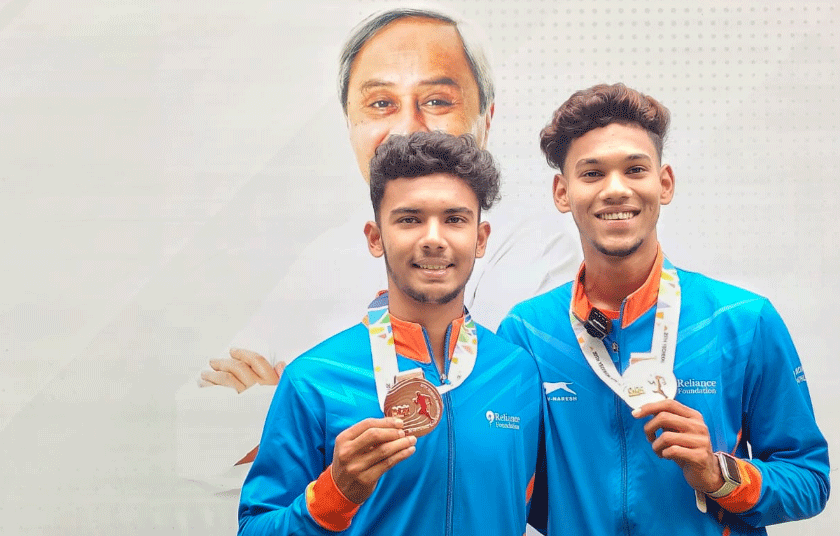 Bhubaneswar: Athletes from Odisha have dazzled yet again on the global stage with Md Reyan Basha and Dondapati Jayaram securing the bronze in the 4x100m Relay at the prestigious 20th Asian U20 Athletics Championship in Yecheon, South Korea. On Tuesday, Minister, Sports and Youth Services, Tusharkanti Behera felicitated the champions with cash award of Rs.1,00,000 each to laud their efforts. Both athletes, hailing from Odisha, are products of the Odisha Reliance High Performance Centre of Athletics in Bhubaneswar.
Sports Minister expressed his delight on Odisha athletes shining bright at the international podiums and bringing laurels for the state. He wished the two medallists the very best and assured to extend all support in their onward sporting journey.
The Odisha model for sports emphasizes the importance of recognizing athletes for their performance and incentivizing them with cash awards. On his phenomenal achievement and the recognition, he received from the Government of Odisha, Dondapati Jayaram expressed his gratitude, and said, "This is a special achievement for us. It is an honour to be recognized and felicitated by the Government of Odisha. It is a proud moment for us, and we are inspired to do more. We have been training very hard and this would not have been possible without the Odisha Reliance High Performance Centre of Athletics. We have had access to great coaches and great facilities that have really helped us focus on our performance." he said.
The sensational victory augurs well for the athletes as they prepare for the World Junior Athletic Championship next year.
Speaking on their achievement, Martin Owens, head coach of the Odisha Reliance Foundation Athletics HPC said, "I am proud of Reyan and Jayaram. They are great example of the work that Odisha and Reliance are doing in developing youth athletics for India. However, none of this would have been possible without the vision of our Honourable Chief Minister, Mr. Naveen Patnaik and Mrs. Ambani who heads the Reliance Foundation."
He further reiterated the importance of the talent identification and scouting program that has been deployed by the High-Performance Centre. He said, "Both these athletes are immensely talented, and we expect great things from them, but credit must be given to our scouting program that has found ways to consistently identify talent here in Odisha and then go on to nurture these promising athletes with the right guidance".