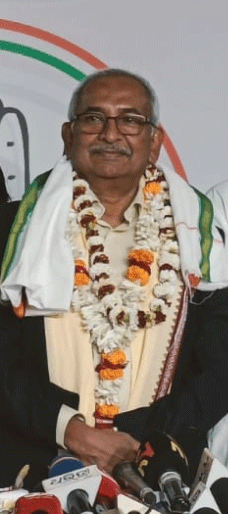 Bhubaneswar: Day after joining the Congress party, bureaucrat-turned politician Bijay Kumar Patnaik on Monday slammed the BJD Government and its style of functioning. He also alleged that Odias are being neglected in their own State.
Speaking to media persons here after receiving a rousing welcome from Odisha Pradesh Congress Committee (OPCC) leaders, Shri Patnaik said, "Odia people are exploited in our State. Perhaps Odisha is the only State where conspiracy was made to neglect its own people. Odia Contractors are not getting work here."
Stating that unemployment is a big problem in Odisha, he said, even tenders for small works are also made in such a way, Odia contractors are not able to qualify it. If small and C class contractors from other States will get all the work here, where will the Odia people go? he asked.
Shri Patnaik also alleged that Odia people are not getting employment in the big industries being set up in the State. Even, transport agencies from other States are being utilised in Odisha whereas the Odia people who own a truck, fail to get any work, he pointed out.
Refraining from making any direct attack on Chief Minister Naveen Patnaik, he said, "He was my Boss. So, I don't want to make any critical comment on him. However, I can say, this Naveen Patnaik is not the same one, under which I was serving."
Quoting Lord Acton's quip, Shri Patnaik said, "Power corrupts and absolute power corrupts absolutely,"
The former Chief Secretary said he joined politics because he became intolerant after seeing the style of functioning of the present Government in the State.
"It is really suffocating and hard to watch like a mute spectator the way administration is working in Odisha. The common man in the State does not know whom to approach to get their grievances redressed. Be it a MLA or Ministers, they claim that they do not have powers and everything is being controlled by the 'third floor'," he alleged.
Commenting on the 5T model of Governance, the Congress leader said, "It is just a slogan. Everybody knows how much transparency is prevalent in Odisha. If each Department functions efficiently there is absolutely no need for a separate department like the 5T."
Shri Patnaik also alleged that the Senior capable Officers are not allowed to function independently in the State.