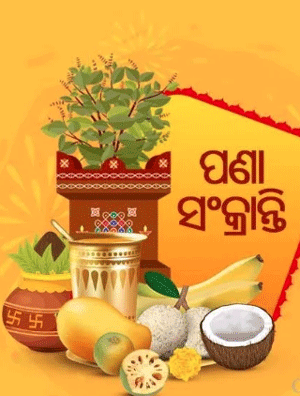 Bhubaneswar: Maha Bishuba Sankranti also known as Pana Sankranti, which is also treated as Odia New Year was celebrated with much fanfare across the State on Friday.
This traditional festival marks the beginning of the Odia calendar month of Baisakha and is observed with great enthusiasm by people of all ages and communities in Odisha.
People across Odisha, especially in rural areas, celebrated this auspicious day by preparing and sharing a sweet drink called 'Pana'.
The Pana is a mixture made of pulp of bela (wood apple), nadia kora (coconut gratings) chena (cottage cheese) and other items. It is believed to have numerous health benefits and is considered auspicious to consume during the festival.
The preparation of Pana is an integral part of the festival, and families come together to make this special drink, which is later offered to Deities as a ritualistic offering in temples and shared among friends, relatives, and neighbours as a gesture of goodwill.
The festivities also include the worship of Lord Jagannath, who is believed to have created the Pana drink. The festival is a time for renewal, new beginnings, and togetherness, and its vibrant celebrations truly embody the rich cultural heritage of Odisha.
Devotees also perform special puja on the occasion, which is also celebrated as the birth anniversary of Lord Hanuman.
In Puri, traditional wrestlers come out of the Jaga Ghara, Akhadas (training homes) and gymnasiums to showcase their wrestling skills after worship of Lord Hanuman. New Panji will begin from this day.
The festival has been celebrated for centuries and is believed to have originated from the ancient agrarian culture of the region, where it marked the beginning of the new agricultural year. According to legend, Lord Jagannath, the presiding deity of the famous Lord Jagannath Temple in Puri, created the Pana drink as a remedy for the scorching summer heat.
President Droupadi Murmu, Prime Minister Narendra Modi, Union Home Minister Amit Shah, Chief Minister Naveen Patnaik and several other eminent personalities have extended greetings and best wishes to the people of Odisha on this auspicious occasion.
Taking to Twitter, President Murmu, who is herself an Odia, said, "My heartfelt greetings and best wishes to my dear brothers and sisters of Odisha on this Odia New Year."
The holy Pana Sankranti is being observed in Odisha with gaiety and fervour and various religious programmes also organized on the occasion, she said.
Prime Minister Modi, in a tweet, said "Happy Maha Bishuba Pana Sankranti and Odia New Year. Have a healthy and happy year ahead."
Union Home Minister Amit Shah also extended his greetings to the people of Odisha on the occasion of a Maha Bisubha Sankranti and Odia new year. Shah said may the blessings of Mahaprabhu Jagannath be the guiding force on everyone's life.
In a message, Odisha Governor Prof Ganeshi Lal while extending his greetings to the people of the State appealed to the people to make Odisha the best state in the country.
Similarly, Chief Minister Naveen Patnaik also greeted people on the occasion and tweeted" "My heartiest greetings and best wishes to all on the occasion of the Holy Maha Bishuba Sankranti and Odia New Year. With the blessings of Mahaprabhu Shri Jagannath, this new year may bring new opportunities and possibilities for everyone."
BJP National President Jagat Prakash Nadda also wished good health, happiness and prosperity to the people of Odisha on the occasion.