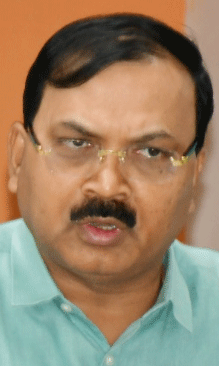 Bhubaneswar: The Odia art and culture is not only confined to Odisha only, now it has been spread to other States and across the world, thanks to the vision of the Chief Minister Naveen Patnaik.
Participating in a debate in a leading News Channel, Additional Chief Secretary (ACS), Odia Language, Literature and Culture Department, Satyabrata Sahu said the department's activities have gone beyond the boundaries of Odisha.
Recently, Chief Minister Naveen Patnaik has formed the Directorate of Odia Paribar, which has organized a cultural program in Dubai. Odisha Diwas has been celebrated in Dubai, he said. Odia Paribar is connected to Diaspora residing across the world.
Similar events were also conducted in Bangalore and Kolkata while another such event will be organised soon in Singapore, the ACS said.
With the organization of such events, the Odia people who are residing in other States and countries, will remain connected with the culture and art of the State, Shri Sahu said.
He also informed that the State Government has been giving much emphasis to promote Odia language, art and culture. The State has enhanced the budgetary allocation of the Department from Rs 2.60 crore in 2000-01 to Rs 170 crore in 2023-24. If one includes the funding from CSR and other resources, the total allocation for the Department comes to nearly Rs 200 crore, which is much higher and sufficient,ACS Shri Sahu added.
Similarly, the number of artistes has been increased to 50,000 from 4000. All the artists are getting Rs 1200 per month under Mukhymatri Kalakara Sahayata Yojana.
Earlier, Zilla Sanskruti Parishad was there in only 13 districts. Now, such Parishads have been formed in all 30 Districts while Block Cultural Federations have been formed in all Blocks and cultural groups are there in all Panchayats, the CAS said.
Similarly, cultural festivals were only confined in Bhubaneswar and Cuttack cities. Now, cultural festivals are being held in maximum districts like Koraput, Malkangiri, Mayurbhanj, Rayagada, Nabarangpur, Kalahandi, etc.
The activities of Odia Sahitya Academy, Odisha Sangeet Natak Academy, Odisha Lalit Kala Acamdy, and Urdu Academy have been enhanced to a larger scale, he said, adding, last year, the academies have published 550 books while earlier only 20/25 books were published in a year.
The number of awards has also been increased from 50 to 75 awards in the three academies. The award money has also been enhanced, ACS Shri Sahu said.
The scope of awards has been enhanced. For example, now the government has decided to give awards to Music Directors. The Chief Minister has assured to fund all developmental initiatives and accordingly the awards in more categories added to encourage the artists, musicians and other people, he pointed out.
For promotion of Odia films, the State Government has recently waived off the entertainment tax on Odia movies like Daman, Delivery Boy so that people can see the movies in talkies. Besides, the Kalinga Studio is also being redeveloped by Odisha Film Development Corporation, he said.
However, the ACS opined that Odia movies needed to become available on big OTT platforms like Netflix and Amazon Prime to reach out to a larger audience because this is the age of internet and mobile.
"Our aim is to promote Odia language, art, culture from grassroots to state-level, national-level and also at international forums," ACS Shri Sahu added.