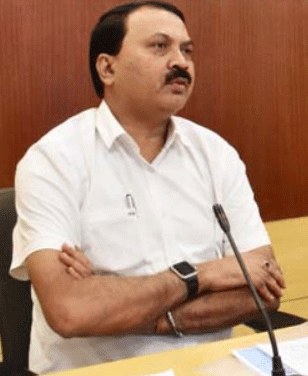 Sambalpur: Additional Chief Secretary, Revenue and Disaster Management and Special Relief Commissioner, Satyabrata Sahu rushed to Sambalpur to handle critical situation.
Shri Sahu held a review meeting with senior officers including RDC Northern Division, Suresh Chandra Dalai, IGP Northen Range Deepak Kumar, District Magistrate, Ananya Das and SP B Gangadhar here.
ACS Shri Sahu suggested measures needed to be taken to bring complete normalcy in the Western Odisha town.
It has been informed to him that following clamping of curfew, normalcy is returning to Sambalpur town, which had witnessed a series of violence incidents since April 12 evening.
DGP Sunil Bansal rushed to the violence-hit town on Saturday. He also reviewed the situation with senior police officials here on Sunday.
Speaking to reporters, Shri Bansal said, "Though no major violence happened in the city after the untoward incident happened on April 14, we have imposed curfew as a precautionary measure."
There was no incident reported yesterday during the relaxation period. Today, some more relaxation was given and it passed peacefully, he said.
Stating that the situation is continuously improving, the DGP said, "I hope, if it continues, we will remove curfew and bring normalcy in the city in next two days."
As some examinations were there in the town Sunday, extra relaxation in curfew has been given to them. As per information available, the examinations are going smoothly. The curfew will be again relaxed when the examinees will come out from the exam halls, Shri Bansal informed.
"We are continuing the process for identification of the persons who were involved in the violence and many people have been arrested. Further investigation is going on," he added.
The DGP made it clear that strict action will be taken against all those who are involved in the violence incidents.
He appealed to people not to remain in panic and cooperate with the district administration to bring normalcy in Sambalpur.
The Sambalpur police arrested 79 persons in connection with various violence incidents that occurred in Sambalpur town since April 12.
Sambalpur Superintendent of Police, B. Gangadhar said, "We have arrested another 30 people against the case registered for creating violence in the town. So far, a total of 79 persons have been arrested in connection with the violence incidents."
The number of the arrests will increase further as identification of other people is going on through CCTV footage and video footage, he said.
"Many people involved in both the incidents were arrested while some of their leaders fled Sambalpur. We have sent teams to catch them," the SP said.
The seizure of stones indicates that it was pre-planned and action will be taken as per law, he informed.
Ahead of the Hanuman Jayanti (April 14), a motorcycle procession was organised by Hanuman Jayanti Samanyoya Samiti members, Bajarang Dal workers etc. on April 12 evening. During the rally, there were clashes between two communities in Sambalpur town leaving several people and police injured.
Violence incidents again occurred in the town on April 14 when Hanuman Jayanti procession was going on in the western Odisha town. Few shops were torched and ransacked on April 14 night.