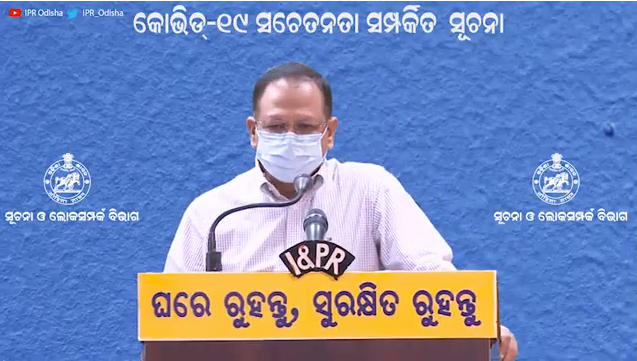 Bhubaneswar: With the test positivity rate (TPR) remained around 1 percent in the State, the Odisha Government on Tuesday lifted the weekend shutdown imposed in Bhubaneswar, Cuttack and Puri towns.
Development Commissioner and Special Relief Commissioner (SRC) Pradeep K Jena has announced new guidelines for the month of September. The fresh guidelines will remain in effect till October 1.
Mr.Jena said that in view of the drop in daily cases of Covid-19 infections, the State Government has decided to relax restrictions to support the livelihood of people. As per the decision, the weekend shutdown which was enforced in Cuttack, Bhubaneswar and Puri has been lifted.
However, the night curfew in all urban areas across the State will continue from 10 PM to 5 AM every day, he said.
During the night curfew time, all emergency services will continue to operate as it is and home delivery of foods has also been allowed during the curfew time, the SRC said.
He further informed that the State Government has given more relaxation for conduct of marriage like ceremonies and funerals. The Government now allowed 250 people to attend in marriages and funeral functions by adhering to COVID guidelines. Earlier it was 25 for marriages and 20 for funerals.
Mr.Jena said that all puja ceremonies will be held by following the rules as laid out by the government in its August 9 guidelines.
Besides, the curbs on social, religious and political gatherings will continue in the State.
The Government has adopted five-fold strategy such as testing, tracking, treatment, vaccination and adherence to Covid appropriate behaviour for containing the spread of infection.
Micro containment measures will be undertaken by local authorities–district collector and municipal commissioners, examining very carefully the spread of infection, case positivity, hospital infrastructure and local conditions, with a view to minimizing the spread through effective micro-containment, he added.
As per the unlock order, auditoriums/assembly halls/ similar facilities shall remain open only for official meetings as per the seating capacity adhering to COVID safety protocols. No social, religious, cultural, political gatherings & meetings will be allowed in such facilities.
Information Centre-cum-reading rooms and libraries will remain open from September 1. The concerned authorities/in charge of such centres/ libraries should adhere to COVID- 19 safety protocols.
During night curfew, all commercial establishments including essential items, food and vegetable shops, excluding all medicine/ pharmaceuticals/ medical devices/optical shops etc. shall remain closed.
However, home delivery of essential goods, food items, including grocery, vegetables, fish, meat, egg and milk are permitted. Further, home delivery of food by restaurants, hotels and aggregators such as Swiggy, Zomato etc. are allowed.
No restrictions have been imposed for COVID testing, vaccination and movement of persons/ vehicles for COVID testing and vaccination.
All Government & Private offices/ establishments dealing with essential services/ utility providers like power, telecommunication, water supply, Police, Municipal Services, Railways/ Airport/ Port services and Security etc. will remain functional.
Movement of private four and two-wheeler, auto-rickshaws, cab aggregators such as Ola, Uber etc. are also allowed for dropping and picking up passengers to and from airports, railway stations and bus stands.
However, during the night curfew, the District Magistrates/ Municipal Commissioners/ Police Commissioner, Bhubaneswar-Cuttack, shall allow/ restrict any such activities as would be necessary in the interest of general health of the public and for prevention of spread of Covid-19 .
Wearing of face cover/ mask properly is compulsory in public places; in workplaces; and in public transport.

All individuals must maintain a minimum distance of 6 feet in public places. Spitting in public place will be punishable with a fine, as prescribed in accordance with laws, rules or regulations.

Consumption of liquor, paan, gutka, tobacco, and similar products in public places is strictly prohibited.