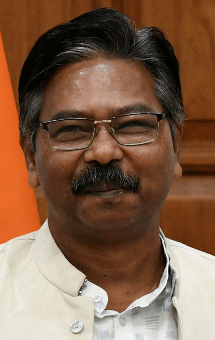 New Delhi: As many as 314 persons from Particularly Vulnerable Tribal Groups (PVTGs) have been infected with Covid-19 so far.
However, none of them died due to the virus, Union MoS Tribal Affairs Bishweswar Tudu told Parliament recently.
In a written reply to a question asked by lone Congress MP from Odisha Saptagiri Sankar Ulaka, Union Minister Mr.Tudu said all 314 PVTG persons have recovered from the disease and there has been no casualties.
No PVTG is there either in hospital or home isolation or at quarantine centres, he said.
Informing about the various measures to prevent taken by the Odisha government to control spread of Covid-19 in the tribal hinterlands of PVTG areas.
The Union Minister said a door to door survey conducted by Community Resource Persons (CRPs) jointly with ASHA & AWW.
About 64,214 households surveyed in 1679 PVTG villages so far while special vaccination camps were organized where 23968 PVTGs got vaccinated and assistance has been given to the tribal population by the Community Resource Person in COWIN registration, he said.
Provisioning of health kits has been made to all the frontline workers serving PVTGs with 10 different items including masks, sanitizers etc.
Masks, sanitizers have been distributed to the PVTG HHs during awareness campaigns. Use of local dialects-awareness message in all the 13 PVTGs dialects prepared and are used in the field, Mr.Tudu said.
Villagers have made controlled entry to the villages. In border villages, local administration has also deployed police personnel to check entry of any outsiders from neighbouring states, the newly appointed Union Minister further stated.
Teams of dedicated Doctors/Nurses have been constituted to look into the PVTG areas and ensure timely treatment. Oxygen & ICU facilities have been arranged for use in case of emergency treatment, if any.
Dedicated Ambulance has been kept in readiness to address exigency issues.
He said Rs 1400 is given to the affected PVTG patient for availing 14 days stay in quarantine centre.
The State government has also distributed dry ration kits containing all food ingredients for a complete day to the affected PVTG HHs for 14 days.
To address malnourishment, dry ration is being supplied to pregnant women & lactating mothers as well as children of 6 months to 3 years during the pandemic time in every 15 days interval.
Moreover, the take home ration is also being distributed by Anganwadi Workers with the help of local CRPs for the 3 to 6 years children. Special 24×7 Helplines have been functioning in all the Micro Project Agency offices.
Besides, a 24×7 Control Room has been opened for round the clock assistance. CMs relief package for all the PVTG Households @ Rs 5000 per HH have been announced on 07.07.2021 & are being transmitted to their accounts through DBT mode, he added.