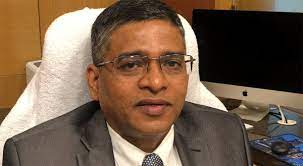 Bhubaneswar: The State Government Thursday decided to include Mucormycosis (Black Fungus) as a notifiable disease under the Epidemic Diseases Act -1897 in view of the reported rise in the incidence of Mucormycosis (Black Fungus) amongst the COVID- 19 patients who were under Cortico Steroids and other Immunosuppressive drugs and also among the patients in the post COVID period across the State.
However State Administration has clarified that Mucormycosis has not been declared as an epidemic as there is no epidemic of Mucormycosis in Odisha, said ACS Health & Family Welfare Pradipta Kumar Mohapatra.
For its treatment monitoring, a State Level Task Force Committee has already been constituted by the Department of Health & Family Welfare.
The Committee also monitors the incident of such patients admitted to the different hospitals of the State and formulates the guideline for early detection and management of such cases if detected.
Recently the Task Force has suggested a protocol for identification, treatment and follow up action in addition to public awareness.
Further, the Committee recommended declaring Mucormycosis (Black Fungus) as a notifiable disease under the Epidemic Diseases Act – 1897 so that report on all such suspected and confirmed cases shall be shared by all District Health Facilities to the Health & Family Welfare Department subsequently to IDSP Surveillance System for monitoring.
Notably, in view of increasing cases of fungal infections among recovering COVID-19 patients, the Union Government has asked all States to declare mucormycosis or 'black fungus' an epidemic.
The Union Health & Family Welfare Ministry asked the State Governments to list the fatal infection under the 'Epidemic Diseases Act' as deaths due to the black fungus are on the rise in the country.
"In recent times a new challenge in the form of a fungal infection namely mucormycosis has emerged and is reported from many states among COVID-19 patients especially those on steroid therapy and deranged sugar control," Health Ministry Joint Secretary Lav Agarwal has said in a letter to states.
"This fungal infection is leading to prolonged morbidity and mortality among COVID-19 patients," he said adding that the treatment for black fungus is required a multi-disciplinary approach involving doctors such as eye specialists, ENT specialists, general surgeons, neurosurgeons and dental facial surgeons.
"All government and private health facilities and medical colleges have to follow guidelines for screening, diagnosis, management of mucormycosis," Mr.Agarwal said in a letter to States.
The disease, which can lead to blackening or discolouration over the nose, blurred or double vision, chest pain, breathing difficulties and coughing blood, is strongly linked to diabetes.
The black fungus cases have been reported in various parts of the country including Karnataka, Uttarakhand, Telangana, Madhya Pradesh, Andhra Pradesh, Haryana and Bihar.
Mucormycosis of black fungus, which is primarily affecting people recovering from the COVID-19, has been declared an epidemic in Telangana and Rajasthan.