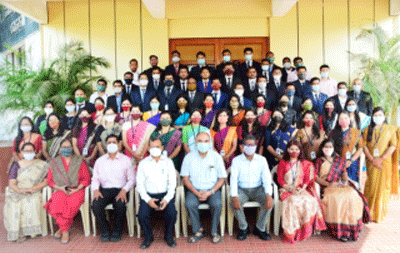 Bhubaneswar: "Be close to the people, talk with them directly and listen to their issues caringly with empathy and respect for them", advised Chief Secretary Suresh Chandra Mahapatra to the probationers in Odisha Administrative Service ( OAS) cadre.
Mahapatra said this while addressing them at Gopabandhu Academy of Administration (GAA) Bhubaneswar here in the inaugural session of the Institutional Training Phase on Wednesday.
He urged the officers to adhere to the golden principles of Mo Sarkar introduced by the Hon'ble Chief Minister. "It is a very progressive and people-centric approach for a successful democracy', added Mr.Mahapatra.
"Let the people feel that Government is their Government and it is working for them only".
Complimenting the probationers for their field level activities during the peak periods of COVID-19, Chief Secretary said, "You have got the unique experience of handling an unprecedented pandemic at the beginning of your career. Odish'a model of Covid management has got national and international appreciation. Capitalize your experience and apply it in mitigation of public health crises, if any in future."
Mr.Mahapatra said, as an OAS officer they can directly help people in many ways.
"Never neglect the people and their issues and treat everyone impartially without any bias," he exhorted the probationers.
" It is through the techniques of transparency, promptness in catering to people's grievances and timely service delivery that you can win trust of the people. Always remember that everybody including the Government is constantly watching you," he added.
He cautioned the officers that when repeated bad feedback about a particular officer comes through the techniques of 'Mo Sarkar', then the Government takes serious actions against that officer.
He further advised the probationers that they should not ignore the ability and good qualities of other officers and elected representatives.
Citing the example of the remarkable works done by PRI members in the current pandemic, Mr.Mahapatra advised the officers to trust them and share responsibility with them.
Sharing his experiences of Nabakalebara of Lord Jagannath and mitigation of riots in Kandhamal, Mr.Mahapatra said, "Police action is not the answer to people's issues. Listen to their grievances. Arrive at the true cause that really haunts people address those. That will heal the wound and resolve the issue".
He further advised the probationers to stay physically and mentally fit by good habits of life.
He said that a good state of health and mind will enable the officers to serve people more effectively and earn a good image in professional life.
On the inaugural session, Director General of GAA SP Thakur shared his long experience in public service with the probationers.
He appraised that the present probationers belonged to 2018 batch. They completed their field training during covid-19 operations.

The institutional training will continue up to 27 June, 2021. There are sixty two probationers in this batch out of which 29 probationers are women.
Additional Commissioner GAA Himansu Bhusan Panda presented the welcome address and coordinated the inaugural session.