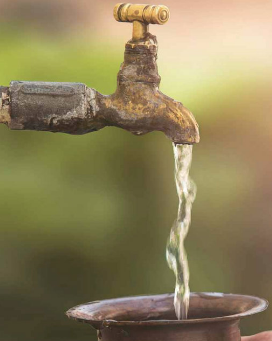 Bhubaneswar: Despite Covid surge and lockdown restrictions, the State Government has been able to complete nearly 200 piped water supply (PWS) projects in rural areas in past two months -April and May, officials say.
According to official sources in the Panchayati Raj and Drinking Water Department, the State Government has executed 198 PWS projects with a total expenditure of Rs 235.54 crore during the first two months of the financial year 2021-22.
Of which, 119 projects have been taken under the Central scheme Jal Jeevan Mission (JJM) while 74 projects have executed under State scheme–Basudha and five others under NABARD assisted Rural Infrastructure Development Fund (RIDF), the source said.
The expenditure made for implementation of the JJM projects was Rs 125.54 crore whereas Rs 39.26 crore and Rs 70.74 crore spend under Basudha scheme and RIDF, respectively.
Apart from the above projects, the State Government has utilised Rs 94.20 crore from Odisha Mineral Bearing Areas Development Corporation (OMBADC) and Rs 39.78 crore under District Mineral Foundation (DMF) for development of drinking water supply in their respective jurisdictions till May, 2021. However, these projects are various stages of completion, the Departmental source said.
In total Rs 369.52 crore has been utilised for the execution of PWS projects in different districts of Odisha. The State Government has set a target to implement 1456 PWS projects with an investment of Rs 9374.34 crore during the current financial year.
Target was set to execute highest 700 projects under JMM with an expenditure of Rs 6000 crore in this year, followed by Basudha with 300 projects worth Rs 850 crore, DMF—370 projects (Rs 1000 crore), RIDF—70 (Rs 1221.46 crore), OMBADC—13 (Rs 211.96 crore) and Fourth State Finance Commission Grant—3 (Rs90. 92 crore).
To ensure livelihood of the people during the Covid-19 pandemic, the State Government has allowed economical activities including construction works in the ongoing lockdown period.
Union Government has launched the JJM scheme to improve the lives of rural people by providing safe drinking water to every rural household through Functional Household Tap Connections (FHTCs) by 2024. Both State and Centre are equally funding for execution of the JJM projects.
Department of Panchayati Raj and Drinking Water is taking up Jal Jeevan Mission in a Mission mode with stipulated time line to provide piped water to the villagers. Nearly 24 Lakh House Hold (HH) have been provided tap water connection out of 85.66 HH said sources.