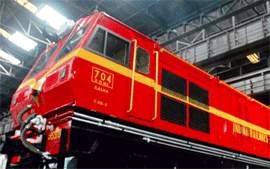 New Delhi: The Government of India once again expressed its reluctance for setting up of the much-awaited wagon factory at Sitalapalli in Ganjam district.
This was indicated from Union Railways Minister Ashwini Vaishnaw's reply to Rajya Sabha on Friday.
BJD MP Prasant Nanda has asked whether Indian Railways have any plan to start construction of Sitalapalli wagon factory in Ganjam district of Odisha.
In his reply, Mr.Vaishnaw said, "Wagon factories are set up keeping in view the Railways' overall requirement of the wagons. Existing wagon manufacturing capacity in the country is adequate."
This was announced by the then Union Railway Minister Mamata Banerjee in 2011-12, and the project was supposed to be implemented in public-private-partnership (PPP) mode and was approved in 2013. But it was delayed due to lack of sincere efforts by the Indian Railways.
On its part, the Odisha Government had identified 101.6 acre of land near Jagannathpur railway station, 20 km from Berhampur, the Railways had dropped the project in 2018 after sanctioning token money of Rs 1000 in the Railway Budget till 2016.
No ground work was undertaken despite several letters from Chief Minister Naveen Patnaik to the successive Railway Ministers since then.
On another question of MP Mr.Nanda about construction of a locomotive maintenance workshop in Kalahandi, the Union Minister Railways said the Centre has allocated Rs 5.26 crores for construction of the workshop during the last five years. However, the expenditure incurred in the subject work has been Rs 6 lakh. It shows that this project is also not going to see the light of the day sooner.
On land acquisition, Mr.Vaishnaw said out of 328.35 acres of land required for setting up of the workshop and rail connectivity, the State Government of Odisha has handed over 155.15 acres of Government land to the Railway.
For balance 4.43 acres of Government land the issuance of permissive possession is under process. Further, 67.55 acres of private land has been acquired by the Railway through direct purchase with the funds provided by the State Government, he said.
Balance of 20.82 acres of private land is under process of acquisition by Tahasildar, Narla. The acquisition of 81.08 acres of forest land is under process in which Compensatory Afforestation (CA) scheme along with DGPS CA Map have been submitted to DFO of Kalahandi, North Forest Division for necessary action, he added.
Work has not been started due to non-availability of required land from State authorities, informed the Railways Minister.