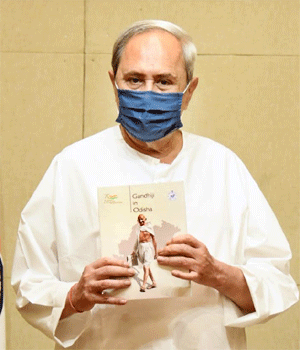 Bhubaneswar: As India is celebrating 'Azadi ka Amrit Mahotsav' to mark the 75 years of its independence, the Odisha Government is also organizing various programmes on the freedom movement, and the life and achievements of Mahatma Gandhi, the Father of Nation.
In this context, the Information & Public Relations Department of the Odisha Government has brought out the reprint of an English book titled "Gandhiji in Odisha" in a bid to make the present and future generation know about the importance and relevance of Gandhiji's ideology in the present world.
Chief Minister Naveen Patnaik released the book here today, on the occasion of Gandhi Jayanti.
The book, which carries some valuable and informative stories about Gandhiji's visit to Odisha on various occasions and other topics, will certainly make a good read.
Gandhiji had a special place in his heart for the people of Odisha, and he had visited this eastern state many times during the freedom movement on the invitation of Gopabandhu Dash and Madhusudan Das.
He had given his thoughtful opinion on various issues of Odisha and suggested suitable solutions to those issues. He had described his visit to Odisha as a pilgrimage.