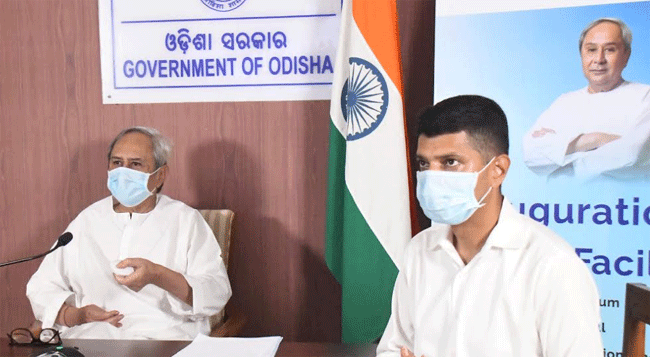 Chief Minister Naveen Patnaik today inaugurated three world class sports facilities in a single day today marking a watershed day for Odisha sports infrastructure. Inaugurating the facilities on virtual platform, the Chief Minister said the State would be launching many more grassroots programs across all the districts.
He also announced that a Synthetic-turf Hockey Training facility would be constructed in Chhatrapur.
Out of the 3 facilities launched today, the International Standard Multisport Indoor Stadium at Hinjilicut is spread over 1.5 acres of land with a seating capacity of 300. It has playing courts for Badminton, Volleyball and Basketball, besides facilities for Yoga, Gym and Physiotherapy.
The Chhatrapur Indoor Hall is equippted with 3 wooden floored badminton courts of International standard. The shooting range at Kalinga Stadium managed by Aditya Birla – Gagan Narang High Performance Centre will have a 22 lane 10-meter range and renovated 50 meter range. The range can cater to 60 athletes each day for training.
Speaking on the occasion, the Chief Minister said that as part of the 5T initiative, the state has a focus on complete transformation of sports sector in the State. We will continue to support sports persons in their endeavor to achieve excellence, he added.
Appreciating the vibrant sports culture of Ganjam, he said that Hinjilicut Indoor Stadium and Chhatrapur Indoor Hall have been created to further promote sports activities. Built to international standard, Hinjilicut indoor stadium is one of the best indoor facilities we have in the State, he added.
He further said that India has been a major force in Shooting at the global level. With the launching of the 10 metre and 50 metre shooting ranges in Kalinga Stadium, Odisha will also produce large number of shooting champions, he hoped.

He further said that Partnership of Industry and leading sports persons is a dynamic mechanism for flourishing sports. Expressing his happiness over the partnership with Aditya Birla Group and Gagan Narang, he said that this has been further strengthened with launching of this facility.
He thanked Kumar Mangalam Birla and Olympian Gagan Narang for their commitment to promote young talents in Odisha.
Among others Berhampur MP Chandra Sekhar Sahoo, Aska MP Pramila Bisoi Senior Vice President of National Rifle Association of India Kalikesh Narayan Singhdeo, Olympian Gagan Narang, also spoke on the occasion.
Sports Minister Tusharkanti Behera handed over the out-of-turn promotion order to Dutee Chand for receiving Arjun Award.
Principal Secretary Sports & Youth Services Vishal Dev gave the welcome address, and Director of Sports R Vineel Krishna offered the vote of thanks. A video on sports infrastructure in Odisha was screened.
Secretary to Chief Minister, V K Pandian moderated the program. MLAs of Ganjam district, Chief Secretary, Asit Tripathy Development Commissioner Suresh Chandra Mohapatra and other dignitaries were also present.