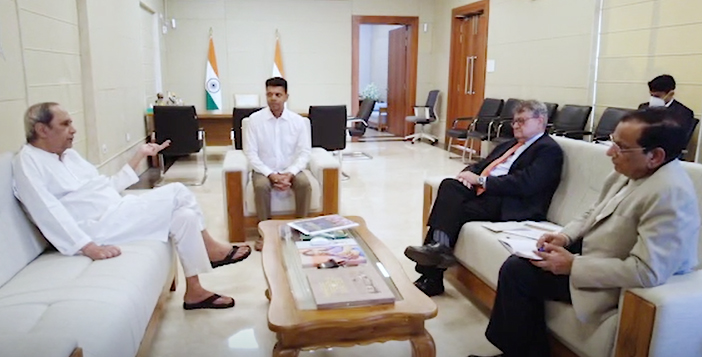 Bhubaneswar: Chief Minister Naveen Patnaik Thursday put forth four-point charter of demands before the NITI Aayog and sought fulfillment of them as they are liked to the growth of the state. 

Mr.Patnaik's demand included expansion of railway infrastructure, banking facilities in rural pockets, telecommunication service in remote areas and obviously its long standing demand of a special category state status. 

The Chief Minister placed the state's demands  when NITI Aayog vice-chairperson  Suman Bery and Member Vinod K Paul met Mr.Patnaik here. Secretary TO CM V K Pandian coordinated the meeting.

Stating that the state will submit detailed notes on the demands, Mr.Patnaik said that Odisha has been grossly neglected in the areas of railways, banking and also telecommunications. 

While justifying the demand on the special category status for Odisha, Mr.Patnaik pointed out that Odisha has almost been annually affected by natural calamities like floods and cyclones. "These calamities caused lot of financial straion on the state.

Therefore, proper infrastructure in this area may reduce the economic loss," he apprised the vising NITI Aayog delegation. 

Mr.Bery on his part also assured the state government to look into the matter and the Aayog will take needful measures. 

The team also invited Mr.Patnaik to the upcoming 7th Governing Council Meeting of NITI Aayog to be held at New Delhi on August 7.  The meeting will be chaired by Prime Minister.
Earlier, while attending other functions and meetings, the NITI Aayog team has assured Odisha government to engage the state in various developmental issues to put it on a high growth path.
Both Mr.Bery and Dr.Paul during a meeting with Chief Secretary SC Mohapatra, Development Commissioner PK Jena and senior officers of the state government, witnessed a presentation made on behalf of the government. 

Both of them appreciated the achievements and development efforts of the state government in their observations and assured of engaging with the state on various developmental issues. 

Both the NITI Aayog Vice-Chairman and Member along with other officials also visited the World Skill Centre at Bhubaneswar, an enterprise run by Women SHGs, Community Health Centre, High School Transformation under 5T, Anganwadi Centre and Wellness Centre at Pipili