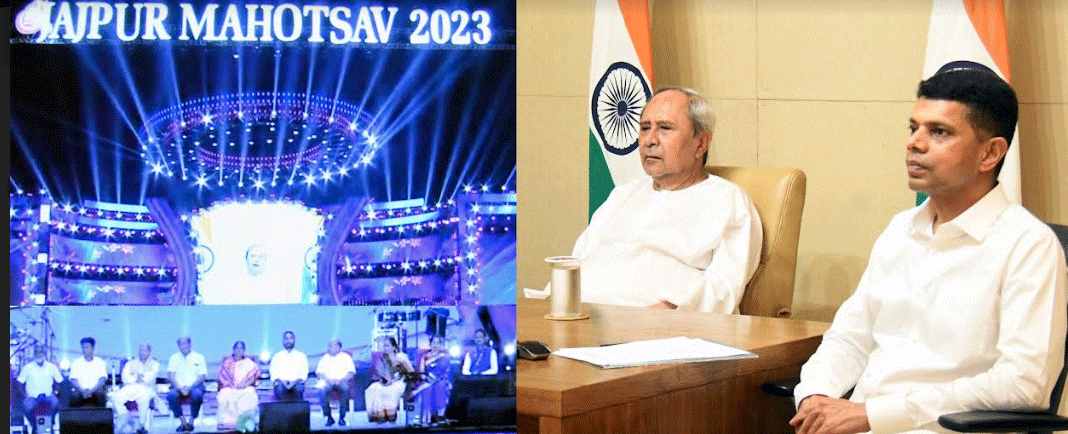 Bhubaneswar: Chief Minister Naveen Patnaik Wednesday said that Jajpur district will emerge as the top district in the State and create an example for all.
Inaugurating the six-day long Jajpur District Festival-2023 through video conferencing, the Chief Minister said that Jajpur is a meeting place of many religions, religions and philosophies. Secretary to CM V K Pandian graced the occasion.
"The culture of Jajpur reflects various philosophies. Jajpur was once the capital of Odisha. It was the center of religion, literature and culture. Like Hinduism, Buddhism also developed," he said.
Shri Patnaik said that Ratnagiri, Lalitagiri and Udayagiri have become the centers of attraction for Buddhists all over the world.
Paying obeisance to Ma Birja, the Chief Minister said that Jajpur is the seat of Shakti. It has a glorious history.
"From freedom struggle to art, literature, culture, agriculture, tourism, Jajpur has a special identity. Today Jajpur is leading the way of development with its heritage. Industry, employment and infrastructure are the new identity of Jajpur today," he said.
"I strongly believe that Jajpur will become the number one district in the state and create an example for all," said the Chief Minister.
District Council Chairperson, Naliniprabha Jena, MLA Ms. Sunanda Das gave their keynote speech and praised the development program of the Chief Minister.
MLA Pranab Prakash Das said that Chief Minister has special blessings and love for Jajpur.
"Today, Jajpur is renowned for its development. He said that under the leadership of the Chief Minister, Jajpur has seen rapid development in the field of communication along with the establishment of Steel Complex and Medical College in Jajpur," he said.
Science & Technology Minister Ashok Chandra Panda, Revenue Minister Pramila Mallik, Rural Development Minister Pritiranjan Ghadai, MLAs Amar Prasad Satpathy, Pranab Balbantarai, Ashok Bal Major attended the event.