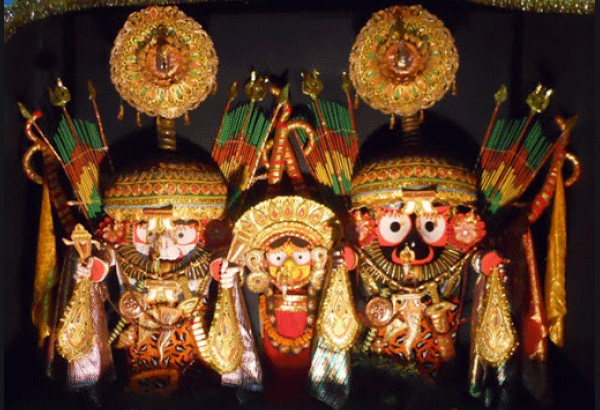 Exactly a month left for the much awaited 'Nagarjuna Besha' of Lord Jagannth on 27 November, the Shree Jagannath Temple Administration (SJTA) Monday started preparation for the mega event.
The SJTA organized a ceremony where the artisans to prepare special costumes of the Lords, were honored by organizing a puja. The artisans were provided with different types of raw materials like Santara Patta, thermocol and cane for the designing costume.
The festival is being organized after a gap of 26 years as the previous one held in 1994. This Besha is observed during the sacred month of Kartik.
When the most auspicious Panchuka (last five days of Kartika month) is observed as six days, Lords are adorned to Nagarjuna Bhesa.  This year, due to an extra month after Ashwin (Adhik Maas), the special besha of the Holy Trinity will be held on 27 November, the extra day (sixth day) of Panchuka.
Balaram Khuntia, who has been assigned the responsibility of making of the Lord's warrior attire, said: "This will be my first assignment to do such a sacred and sensitive work. I was very young the last time when the Besha was observed in 1994 and therefore could not design the attire."
The servitors to be engaged in making of the Lord's attires will have to undergo certain rituals like taking "Habisanna" (one time meal) during the entire month.
SJTA Administrator (rituals) Jitendra Sahu said the Besha Anukula ceremony for Nagarjuna Besha was performed on the occasion of Vijayadashami as per the temple Record of Rights.
On the occasion, the Trinity will be dressed as Naga warriors, with golden weapons including arrows, bows, Hala (plough), helmet, Chakra (wheel) and Musala (mace).
According to mythology, the Nagarjuna Bhesa  denotes the killing of Sahashrarjuna by Lord Parsuram, the warrior incarnation of Lord Vishnu.
When the temple is busy in making arrangements for the rare Besha, nobody is sure whether the devotees will be allowed to witness the sacred event.
The shrine continues to remain closed since 17 March, 2020 in view of the outbreak of the COVID-19 Pandem