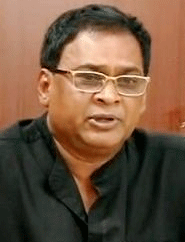 Bhubaneswar: Ace political personality Naba Kishore Das, who succumbed to bullet injuries at Apollo hospital on Sunday, was among the few Congress leaders who could withstand the Naveen Patnaik wave for nearly two decades.
After winning electoral battles against BJD candidates he preferred to join Governing BJD led by Naveen Patnaik in 2019.
Shri Das, a law graduate, was in politics from his college days and was elected as the Students' Union President at Gangadhar Meher College at Sambalpur, one of the oldest colleges in Western Odisha.
He later became Vice-President of Odisha NSUI and Odisha Youth Congress before becoming a Member of OPCC. His rise was steady – AICC Member and one of the Working Presidents of the OPCC – over the last two decades.
Shri Das is believed to be one of the richest members of Shri Patnaik's cabinet and has properties worth Rs 34 crore according to a property statement filed in 2022. Besides huge real estate holdings, the politician is believed to have fleet of vehicles and other business establishments.
He won his first state election from Jharsuguda in 2009 on a Congress ticket by defeating BJD candidate Kishore Kumar Mohanty. He was again elected from Jharsuguda in 2014 by defeating BJD Leader. However, 5 years later he decided that he needed to jump ship to join the very party he had been fighting against for years together.
Shri Das is believed to have told the Congress leadership that his "people wanted him to be with Naveen Patnaik," before leaving the party.
Tough politician from Western Odisha, Shri Das was also known for his organizational skill of which he gave proof when he managed the recent Padampur by-polls, where despite fears that it would be a neck-to-neck fight, the BJD candidate won by a handsome over 42,000 votes. He was an ace organizer, said Debi Prasad Mishra, Vice President BJD, adding his untimely demise is a huge loss to the Party and Government.
Considered a close confidant of Chief Minister Naveen Patnaik, Shri Das, who took oath as a Minister of Health and Family Welfare on May 29, 2019, continued in his portfolio even when the chief minister came up with an overhaul of his cabinet last June.
The Health Minister's pro-active role during the COVID-19 pandemic, possibly ensured this vote of confidence by the BJD Supremo.
Shri Das is survived by wife Minati Das and a son and a daughter.
Naba Kisore was also a great devotee of Shree Shani Dev and Mata Shakti, was known for his generous donations to charity and to temples across the State.