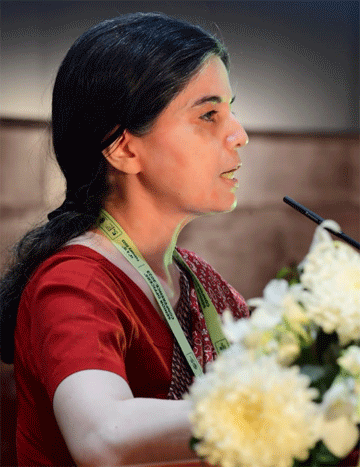 Bhubaneswar: Shalini Pandit, Secretary Health & Family Welfare has said the State Administration has taken several reform measures for strengthening the delivery of healthcare services in line with the Sustainable Development Goals (SDG) and to achieve Universal Health Coverage.
Presenting Quality Health Care For All in Senior Officers' Meet here on 14 February she revealed that in the recent NITI Aayog SDG India Index 2020-21, Odisha's position has improved from "Performer" to "Front Runner" under SDG Goal-3 related to 'Good Health & Well-being'.
She said that Odisha's model in the sharpest decline in Malaria has been acknowledged globally by WHO. The State stood 2nd rank in the Country in 2021 for its efforts towards the elimination of TB.
Odisha has made a quantum leap with a 39-point decline by reducing IMR which is the highest point decline in the country. The State has secured 1st rank among all States in Full Immunization coverage with 90.5% coverage achievement.
Odisha is the first state in the country to provide Air Health Service by flying specialists to rural interior areas of the state to bring the super specialist care to every corner of the state, under 'Mukhya Mantri Bayu Swasthya Seba'.
During the time of Covid Pandemic, Odisha was one of the first States to create dedicated COVID-19 hospitals with ICUs in each district. When several States of India grappled for life-saving oxygen, Odisha supplied 300 tonnes of oxygen to several parts of India.
Secretary Health said by adoption of 5Ts initiatives and 'Mo Sarkar' strategies, the accountability of health officials in public health facilities has improved and patient satisfaction has increased. In its endeavour to ensure zero out-of-pocket expenditure and provide universal health coverage, Odisha is the first and only State in the country to mandate free treatment for all persons, in all public health facilities.
The free services include free drugs, diagnostics, OPD, IPD, surgery, ICU, etc, in all government healthcare facilities, from Primary Health Centers to Medical College Hospitals. The free services can be availed by all people, irrespective of residence, caste, or economic status. To enable this, the scheme 'Niramaya' was introduced for ensuring free drugs to all, 'Nidaan' for free diagnostic services, 'Sahay" for the provision of free dialysis services in all districts.
Further, free blood is being provided to the patients requiring blood in Public Health Facilities, and free chemotherapy facility is there for cancer patients. In addition to providing free healthcare in all public health facilities, the State government has taken additional measures to safeguard the health of economically vulnerable sections of society, and women in particular, through the BSKY or Biju Swasthya Kalyan Yojana.
The BSKY provides cashless care in empanelled private hospitals, to over 96.5 lakh households. The cashless coverage is up to Rs 5 lakh per annum for a family and Rs 10 lakh per annum for women members of the family. All major hospitals within the State and premier hospitals across 16 States are empanelled under this scheme.
To defeat cancer, "BAGCHI SRISHANKAR CANCER HOSPITAL" with 750 beds and all modern amenities is being established in the State capital. Another 200 bedded State of the Art Cancer Hospital is in the process of being set up by Tata Memorial Center in collaboration with Govt. of Odisha and Department of Atomic Energy, Govt.of India in the NISER campus. The Government of Odisha is also in the process of establishing dedicated cancer and cardiac care hospitals in Jharsuguda in a PPP mode.