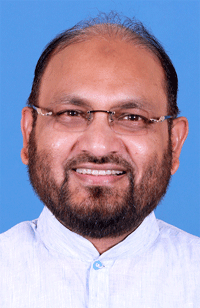 Bhubaneswar: The Special Vigilance Court here on Thursday convicted Congress Lawmaker and Metro Builders' MD Mohammed Moquim, ex-IAS officer and former Odisha Rural Housing Development Corporation (ORHDC) Managing Director Vinod Kumar and sentenced them to three years in jail in connection with the Rs 1.50 crore ORHDC scam.
Apart from the duo, Swasti Ranjan Mohapatra, ex-company secretary, ORHDC and Peeyusdhari Mohanty, director, Metro Builders Pvt. Ltd. have also been sentenced by the special Vigilance court.
The four persons were charge sheeted by Odisha vigilance in Bhubaneswar Vigilance Case registered in 2005 under Prevention of Corruption Act, 1988 and IPC for showing undue official favour, criminal misconduct, forgery, cheating and criminal conspiracy and obtaining pecuniary advantage to Metro Builders Pvt. Ltd. by releasing funds in guise of loans meant for rural poor.  
The convicted persons were sentenced to undergo rigorous imprisonment for a period of three years and to pay fine of Rs.50,000 and in default of payment of fine, to undergo further rigorous imprisonment for a period of 6 months on each count for the offences. All the sentences are to run concurrently, the vigilance officials said.
Abhiram Kar, ex-DSP, Vigilance, Cell Cuttack had investigated the case while Hemanta Kumar Swain, Special P.P, Vigilance, Bhubaneswar conducted the case on behalf of the prosecution.
Earlier, Vinod Kumar along with six others were sentenced to three years in jail in connection with the Rs 1.02 crore ORHDC scam. Following several Vigilance cases against Mr.Kumar, Odisha Government removed him from services.