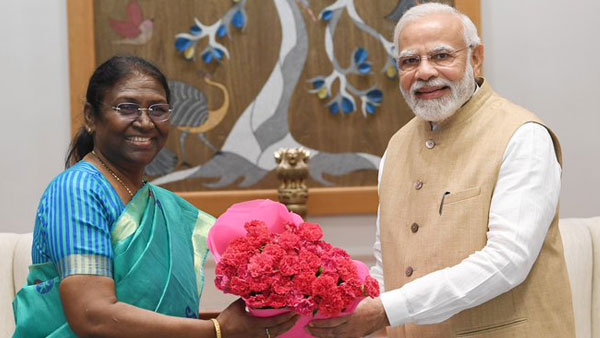 Bhubaneswar: They call it Prime Minister Narendra Modi's political masterstroke to nominate Droupadi Murmu, a lady from Santhal community for the ensuing Presidential elections. The political analysts also conclude that Mr.Modi named Smt.Murmu as the NDA's nominee keeping an eye on the assembly elections in Gujarat, Rajasthan, Madhya Pradesh, Chhattisgarh and also the 2024 General Elections for Lok Sabha and Odisha Legislative Assembly. Many people may say many things, but the fact remains that Modi has won hearts of 4.5 crore people of Odisha by just one action – one may call it a masterstroke or his love for this eastern state.
Of the 20 names, according to BJP President J P Nadda, the Parliamentary Board of the party zeroed in on the name of Smt.Murmu, a 64-year-old tribal woman from Odisha's Mayurbhanj district. What actually made Murmu distinct from 19 other names? Her nomination creates many firsts. She will be the first tribal to occupy Raisina Hills, the first Odia to get the topmost Constitutional post and also the first President to be born after Independence. However, she is not the lone Presidential candidate to be hailing from a humble background. India has seen many presidents including Dr APJ Abdul Kalam and Prime Minister Narendra Modi coming from humble families.
So far Mr.Modi's political move is concerned, the BJP has only 35 of the total 128 tribal seats in the four states like Gujarat, Rajasthan, Madhya Pradesh and Chhattisgarh. In Odisha also, the BJP has only 11 tribal MLAs of the 35 assembly reserved seats. During his eight-year long tenure in two terms, Modi has announced many schemes for the development of Banabasis (forest dwellers) and BJP's sister wing Banabasi Kalyan Samiti also runs a parallel organization dedicated to the welfare of tribals for a long time. Still, the saffron party's acceptability among the tribal communities was less in comparison to the voters of general category. Tribal votes, which used to be the traditional vote bank of Congress, have of late gone in favour of regional parties or small parties and not BJP.
Through this nomination Mr.Modi tries to woo the tribals, particularly the Santhal community members who constitute one third of the tribal population in the country. The Santhal population is more in eastern and central India, mostly in Odisha, Jharkhand, Chhattisgarh, parts of West Bengal and also Madhya Pradesh. Bhagawan Birsa Munda is considered as a demi-god for Santhals. Both Modi and Nadda have often highlighted Birsa Munda and tried to woo the Santhals in some states including Odisha. Yet, the BJP failed to get the desired result. Making Smt.Murmu the President of India is considered as the one of the finest efforts of Modi to gain trust of tribals.
Coming to Odisha politics, Mr.Modi and his party have failed to win the confidence of the people in Jagannath Desh as Biju Janata Dal supremo Naveen Patnaik continues to dominate. The saffron party's all out efforts to oust Naveen have failed on different occasions. When the Modi wave swept votes in different parts of the country, it was Naveen's popularity that prevented the victory of the lotus party. AITMC Supremo Mamata Banerjee has also succeeded to withstand Modi's mighty electoral machineries while many regional leaders were crushed down by the Modi-Shah combine.
As Mr.Modi has failed in all his efforts to win the hearts of people in Odisha even after giving important ministries to Odias, good amount of allocation for railways and other sectors, he has no such move to counter Naveen's popularity. The Modi's Pradhan Mantri Awas Yojana (Gramin), free food for the poor under Pradhan Mantri Garib Kalyan Yojana, Pradhan Mantri Gram Sadak Yojana and others could hardly secure electoral benefits for BJP.
Though Mr.Modi announces schemes for the poor people in Odisha, ultimately credit goes to Naveen, who is smart enough to take advantage of the central programs. All good works done at the ground level is considered as the gift of Naveen and not Modi in Odisha. This is the impression being spread every day across the state.
Under such circumstances, Mr.Modi has no alternative than doing something different on which Naveen cannot make a claim. He picked up a tribal woman as the presidential candidate which has won hearts of the people of Odisha. The people have now realized that Mr.Modi actually loves Odisha, for which he gave an opportunity to an Odia, the first of its kind since Independence. Odisha has never seen a son or a daughter of the soil either becoming Prime Minister or President of India. Therefore, credit obviously goes to Mr.Modi for projecting an Odia in the national level. He was the PM who took three MPs, Dharmendra Pradhan and Bisheswar Tudu and former mandarin Ashiwini Vaishnaw in the council of ministers. He has given top posts to Odia officers like P K Mishra, GC Murmu, SN Pradhan, Shaktikanta Das, Mrutyunjay Mohapatra and others.
According to BJP State President Samir Mohanty, many talents which remained hidden in their regions, have been recognized and given Padma awards by the Modi government.
All these actions obviously go in favour of Mr.Modi. But the nomination of Smt.Murmu has become Mr.Modi's tour de force. However, Team BJD also tried to take advantage of the situation. Immediately after Smt.Murmu's name was announced by BJP's Nadda, the BJD Supremo took to twitter and announced that he had been informed by Prime Minister Mr.Modi in this regard. He claimed to be happy over the nomination of an "Odia daughter" for the highest post. Anyway, the debate goes on the credit over Smt.Murmu's elevation. All said and done, Modi got the full credit and a general impression has been created that the Prime Minister was seriously trying to uplift Odias in the national level. Odias remained neglected both by the Congress and non-Congress national leadership in the past seven decades. This is for the first time in the last eight years since Narendra Modi came to power that Odias are getting their genuine place in different spheres like politics, bureaucracy, sports, art, culture and others, observes a veteran political observer.