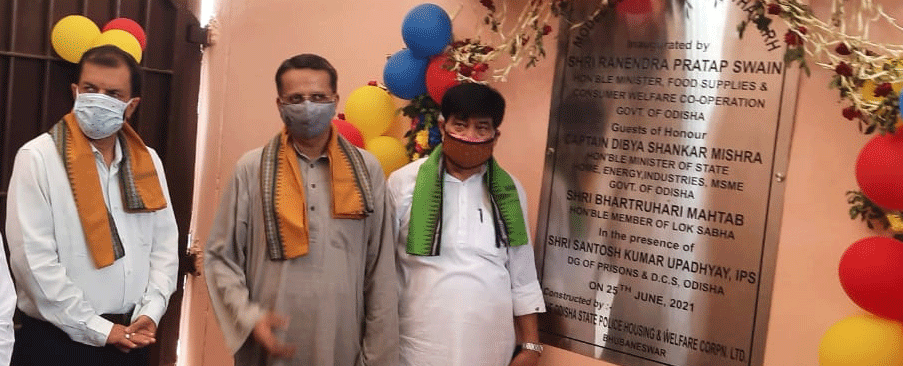 Athagarh: For the first time in Odisha a Model Convict Prison has been inaugurated at Athagarh having capacity of 500 inmates here on 25 June.
Minister Food Supplies and Consumer Welfare, Ranendra Pratap Swain inaugurated the Modern Facility for the Prisoners. Divya Shankar Mishra, Minister of State Home graced the occasion through Virtual Platform.
Bhartruhari Mahatab, Member of Parliament. Lok Sabha Cuttack attended the ceremony as Guest of Honour.
Santosh Kumar Upadhyay, Director General Prisons and Correctional Services, Odisha outlined the details on the Modern Facility launched for the Prisoners.
Model Convict Prison is the first of its kind in Odisha which has been constructed by the Odisha State Police Housing and Welfare Corporation (OSPHWC).
This Modern facility is carved out from 13th Finance Commission Grant , which has 500 Prisoners Capacity having 450 Male and 50 Female Prisoners.
There is provision of Hospital Complex, Industry Complex, Administrative Building, Schools, Kitchen, Dining Complex, Separate Toilet Blocks, for Male and Female Prisoners.
For Hard Core Prisoners there are 12 Cells, said Soubhagya Kumar Bal, Jail Superintendent.
The Project has come up with a cost of Rs.11.83 Crore and the above the State Government has sanctioned 3.03 Crore towards Staff Quarters.
DG Prisons Mr.Upadhyay thanked Joint Manager of OSPHWC Susanata Kumar Paikray and his Team for completion of the Project in a time bound manner along with additional Security Parameters.
Minister Mr.Swain and Lok Sabha MP Mr.Mahatab visited the Hospital Complex of the Prison and advised the inmates for adopting reform methods for their betterment.