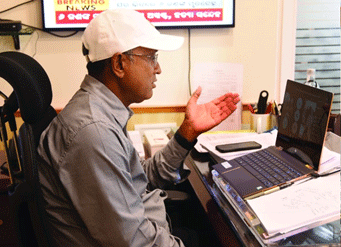 After accomplishing 124 Percent increase Rs.680 Crore in revenue generation from minor minerals in the Financial Year 2019-20, the State has further enhanced its resource base in the sector under continuous oversight of Chief Secretary  Asit Tripathy. The efforts over last months have yielded 1132 new sairats (resources) taking the total to 4667.
This was known from a high level meeting held on digital mode under chairmanship Mr.Tripathy from LoksebaBhawan conference hall today.
While complementing the department and field officials for their efforts, Chief Secretary Mr.Tripathy directed to "evolve the strategy for optimizing the sustainable use of the minor minerals".
CS advised to professionalize the Directorate of Minor Minerals with the public sector approaches for "increasing availability, meeting the market demand, achieving price stability and augmenting of revenue generation".
Mr.Tripathy directed to "focus on process reengineering for tracking the extraction and transportation of minor minerals through application of i4MS software". 
Further, Mr. Tripathy advised Additional Chief Secretary Forest & Environment Dr Mona Sharma, present in the meeting to make State Level Environment Impact Assessment Authority (SEIAA) more efficient with necessary technical and manpower support.
SEIAA was also asked to expedite the issue environmental clearances within specified time period.
Presenting the updates, Principal Secretary Revenue and Disaster Management Bishnupada Sethi said, "because of the extensive efforts in the current year, the total number of minor mineral sources, as of today has reached 4667 out of which 1428 sources have already been put to operation".
 Chief Secretary Mr.Tripathy directed the Collectors to operationalize all potential sources by 30 November.
With regard to the sources in sand rich river beds, Principal Secretary Mr.Sethi appraised, "Five large stretches of river sand beds (four in Jajpur and one in Angul district) with area above 100 acre have been identified for sand mining.
Chief Secretary asked the Principal Secretary Water Resources Anu Garg, present in the meeting to scientifically identify such sand beds in the major rivers like Mahanadi, Rushikulya, Subarnarekha, Baitarani, Brahmani keeping in view the unabated flow of the water course and other environmental issues". The department was advised to complete 1st phase identification in two months. 
Further, Chief Secretary directed to make district wise demand-supply gap assessment for monitoring the availability of minor minerals in all the districts. The issues relating to the scope of exploration of minor minerals from royati land were also discussed in the meeting.
Development Commissioner Suresh Chandra Mohapatra, Additional Chief Secretary Forest & Environment Mona Sharma, Principal Secretary Steel & Mines Surendra Kumar, Principal Secretary Finance Ashok Kumar Meena, Secretary Works  Krishan Kumar, Director Minor Minerals Bibhuti Bhusan Das along with senior officers from concerned departments participated in the deliberations.