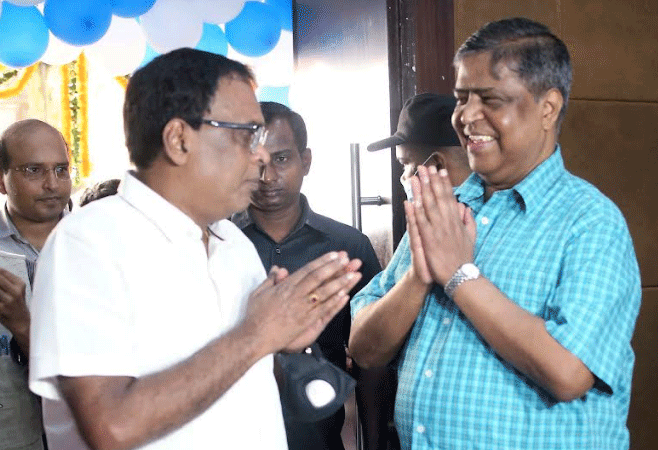 Bhubaneswar: Siksha 'O' Anusandhan (SOA) has been in the forefront in extending healthcare to the people of Odisha and had rendered yeoman service in battling the Covid-19 pandemic by joining hands with the State Government, said Naba Kishore Das, Minister Health & Family Welfare said on Wednesday.
"SOA has been consistently extending healthcare to the people of Odisha for many years and set up Covid Hospitals to battle the pandemic," Mr. Das said while addressing a function at the Institute of Medical Sciences and SUM Hospital here organised on the occasion of World Arthritis Day.
Mr. Das specifically thanked SOA Founder President Prof. (Dr.) Manojranjan Nayak for creating an example in ensuring healthcare for the poor in the private sector.
He said the government had handled the Covid situation well while the poor were getting the benefit of the Biju Swasthya Kalyan Yojana (BSKY) in the aftermath of the pandemic.
Prof. (Dr.) Ashok Kumar Mahapatra, Vice-Chancellor of SOA, who also addressed the program, said arthritis could affect any person after the age of 30 years. The young people should focus on their lifestyle and watch their choice of food intake to avoid such ailments, he said.
Prof. (Dr.) Sanghamitra Mishra, Dean of IMS and SUM Hospital and Prof. (Dr.) Pusparaj Samantasinhar, Medical Superintendent, also spoke on the occasion explaining how the poor patients coming to the hospital were benefitting through the BSKY scheme.
A Continuing Medical Education (CME) program on the theme for this year's World Arthritis Day – 'Arthritis is treatable, don't ignore it' – was also held to mark the occasion. Prof. (Dr.) Pradipta Sekhar Patro, head of the department of Clinical Immunology and Rheumatology in the hospital who put forward his view, said that arthritis could affect people of any age or class.
Dr. Rashmi Ranjan Sahu, Associate Professor in the department, proposed the vote of thanks.
Earlier in the morning, students and faculty members of IMS and SUM Hospital took out a rally from Master Canteen square to the Ram Mandir crossing to create awareness about the disease. Odisha's minister for Science and Technology Mr. Ashok Chandra Panda and MLA Mr. Debi Prasad Mishra also joined the rally.
SOA's Chief Vigilance Officer Mr. Jugal Kishore Das, Dean (Students' Welfare) Prof. Jyoti Ranjan Das, Medical Superintendent of IMS and SUM Hospital Prof. (Dr.) Samantasinhar, among others, were present during the rally.