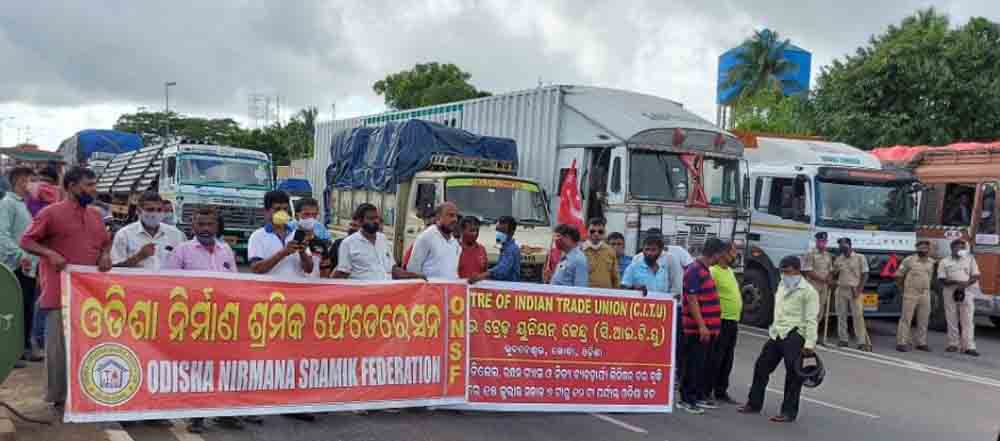 Bhubaneswar: There was a minimal response to the six-hour Odisha bandh called by four left parties in protest against the hike in petroleum products and essential commodities on Thursday.
The Congress extended its support to the bandh called by the leaders of CPI, CPIM, CPIM (L) and Forward Block. But, the bandh was not like earlier bandh calls given by Congress.
As per a local political analyst, the left parties don't have a strong base in Odisha while Congress also nowadays became a little weaker since the party has gone out of power at Centre.
The past few bandh calls were successful because the ruling Biju Janata Dal (BJD) had given indirect support to such protests by announcing closure of educational institutions and other government establishments, the political pundit said.
Moreover, the interesting part is, Dharmendra Pradhan, a strong opponent of the BJD, has lost the petroleum and natural gas ministry in the recent Cabinet reshuffle. So, that might be the reason for which the BJD chose to stay away from the bandh, he opined.
The left party supporters today squatted on the tracks at Bhubaneswar and Balasore stations for a brief period this morning affecting the train services. Commuters were affected as the bandh supporters blocked NH 16 at Bhubaneswar and NH 19 at Soro and several other roads and appealed to people to support the bandh. They also held demonstrations in front of several government offices across the state.
Big shops, malls and market complexes were closed in major citiess. The impact of the bandh was felt in Balasore, Sambalpur, Kendrapara, Cuttack, Berhampur, Rourkela, Sundergarh, Bonai, Nuapada and Gunupur. Sources said no untoward incident was reported from anywhere in the state during the six-hour bandh which ended peacefully at 12 PM.
CPI leader Rama Krushna Panda said with the hike in prices of petrol and diesel, the cost of daily use commodities has also been raised accordingly.
He appealed to both the Centre and State government to immediately withdraw the taxes and cess imposed on petrol and diesel.
CPI (M) leader Suresh Panigrahi said the people of Odisha supported the bandh spontaneously. "The BJP-led government at the Centre and Odisha's BJD government should get a clear message that the common man has totally rejected their fuel price hike," he said.
State Congress President Niranjan Patnaik said his party supported the bandh as a mark of protest against the fuel price hike.
The leaders demanded both the Union and State Governments to roll back the hike and reduce the prices of petroleum products.
BJP state general secretary Prithiviraj Harichandan said that the hike in fuel price is mostly due to a rise in the price of crude oil in the international market.

"This apart, the Left and Congress leaders know that the Centre has been providing free Covid-19 vaccines. Therefore, the price hike was required," he said.

Apprehending that the bandh supporters might close down business establishments, shops, government offices, courts, petrol pumps, the Odisha government on Wednesday directed all district collectors to take preventive measures to maintain law and order and to ensure maintenance of essential services