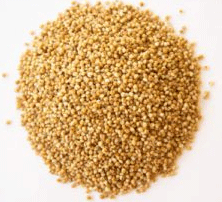 New Delhi: The Union Government has allowed interested States to distribute millets under public distribution system (PDS) subject to prior approval of the Centre.
This was informed by Union Minister of State for Consumer Affairs, Food and Public Distribution, Sadhvi Niranjan Jyoti in a written reply to Lok Sabha during the winter session, which was sine die on 23 December.
Under the National Food Security Act, 2013 (NFSA), highly subsidized food grains are provided to States/UTs for distribution to around 80 crore beneficiaries through Targeted Public Distribution System (TPDS).
Under the Act, she said, the term food grains is defined as rice, wheat or coarse grains or any combination thereof conforming to such quality norms as may be determined, by order, by the Central Government from time to time.
In addition to this, the State/UT Governments may continue with or formulate food or nutrition-based plans or schemes providing for benefits higher than the benefits provided under this Act.
Coarse Grains (including millets) are already a part of the Public Distribution System (PDS). The procurement, storage, and distribution of coarse grains by States/UTs is done under Decentralized Procurement (DCP) system, said the Minister.
Under this, she said, any State/UT Intending to distribute millets under PDS is allowed to procure it from farmers at Minimum Support Price (MSP) under central pool subject to prior approval from Government of India on the detailed procurement plan prepared by State Governments in consultation with Food Corporation of India (FCI) so as to ensure that the procured quantity is distributed under PDS in that State only.
Subsequently, the allocation of approved quantity of millet for distribution under PDS is made by the Department, while ensuring that the overall quantity of rice, wheat and millets has to be within the upper ceiling fixed in respect of each State/UT under NFSA, she stated.
The Kerala Government has already requested to provide 991 MT of Ragi.
Government of India accords priority to the supply of millets to States/UTs as per the provisions of NFSA, depending on availability.
The Government of India has conveyed to the State Government of Kerala that Karnataka will be able to supply 1000 MT of Ragi to the State from the upcoming Kharif Marketing Season (KMS) 2022-23.
The MoS further said crop diversification programme is pursued in original green revolution States via Punjab, Haryana and Western Uttar Pradesh as a sub-scheme of Rashtriya Krishi Vikas Yojana since 2013-14 to divert the area of water guzzling paddy crop to alternate crops like pulses, oilseeds, coarse cereals, nutri cereals, cotton and agro forestry with an objective to demonstrate and promote improved production technologies of alternate crops for diversion of paddy cultivation and to restore soil fertility through cultivation of leguminous crops that generate heavy biomass and consume lesser nutrients.
Notably, the Odisha Government is at forefront in cultivation and promotion of millets. The State Government has been implementing the Millet Mission, which will be now extended to all 30 Districts.
The State Government has decided to spend Rs 2,800 crore on Millet Mission in five years. Now, around 2 lakh farmers, 82 Farmer Producer Organizations (FPOs) and 1,200 Mission Shakti groups have been included in the mission.