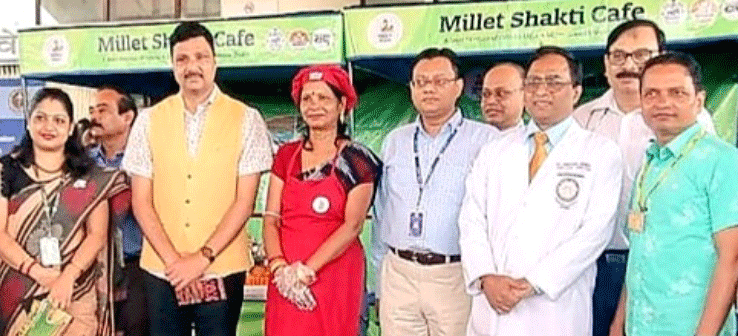 Bhubaneswar: Odisha Millets Mission (OMM) in collaboration with AIIMS Bhubaneswar inaugurated Millet Shakti Kiosk within the premises of the institute to promote millets among the medical fraternity and general public here on Thursday.
The inauguration was graced by Arabinda Padhee, Principal Secretary, the Department of Agriculture & Farmers Empowerment, Ashutosh Biswas, Executive Director AIIMS Bhubaneswar, senior officials of Agri Department and senior staff of AIIMS Bhubaneswar.  
The Millet Shakti kiosk draws a huge number of footfalls from doctors, nutritionists, staff and the general public. The Millet Shakti Kiosk will remain open for the staff of AIIMS Bhubaneswar and the general public till July 22 2023.
The kiosk which serves various millet-based food items such as Khurma, Cookies, Mixture, Grains, Flour, Ragi Chhach etc., is being managed by women SHGs of Mission Shakti Department.
Along with food items, several IEC materials such as millet-focused leaflets are being distributed among doctors, nurses and the general public for awareness of millets and standees on millet health benefits were also displayed.
The general public also played various interactive games that helped raise awareness of different types of millet and millet-based recipes.
At the onset of the inaugural event, Dr. Padhee, Principal Secretary, Department of Agriculture and Farmers Empowerment highlighted the collaborative strategies adopted by the government of Odisha for the success of Odisha Millets Mission.
He mentioned that Odisha Millets Mission is working together with different State Government departments like Mission Shakti, Sports, Health, Schools and Mass Education. They have also partnered with central government institutions such as AIIMS and APEDA, as well as private stakeholders like entrepreneurs and the Hotel & Restaurant Association of Odisha. Additionally, they are involving communities to spread awareness about millets effectively.
Dr. Biswas, Executive Director, AIIMS Bhubaneswar emphasized the immense health benefits of different millets. He added that millet consumption is essential for patients battling chronic diseases as well as for pregnant and lactating mothers as millets have a better composition of micronutrients when compared to other staple crops.
The Millet Booklet recently released by AIIMS Bhubaneswar and co-authored by the Executive Director has detailed out the health benefits and nutritional value of millets.
Dr Ashok Kumar Jena, Dental Surgery Department of AIIMS Bhubaneswar stressed the fact that millets have become absolutely mandatory for people from a health perspective. Being a rich source of calcium, magnesium, phosphate, iron, antioxidants and other micronutrients makes them essential to resist critical diseases.
The Department of Agriculture & Farmers Empowerment has planned a long-term partnership with AIIMS Bhubaneswar for various important initiatives. These include adding millets to the canteen and hostel menu at AIIMS, certifying specific millet-based recipes by nutritionists/dieticians, recommending millet consumption to patients by doctors, and providing training to district health officials at AIIMS Bhubaneswar to spread knowledge about millets.
This collaboration is significant as it will help popularize millets among the general public, especially those who suffer from chronic diseases like diabetes, pregnant women, lactating mothers, and children.