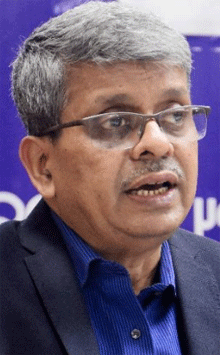 Bhubaneswar: The State Election Commission (SEC) is taking all necessary steps to conduct Panchayat election in Kotia Gram Panchayat during ensuing polls giving a clear-cut message to Andhra Pradesh, which is claiming Kotia villages under its boundary.
During a recent meeting with Collectors and SPs, State Election Commissioner Aditya Prasad Padhi had asked them to give special attention for holding Panchayat Elections in Kotia Gram Panchayat under Pottangi Block in Koraput District.
In February last year, the Andhra Pradesh Government had issued notification for conduct of the rural polls in Kotia despite the Odisha government having approached the Supreme Court.
Both Odisha and Andhra are engaged in a five-decade-long tussle over the ownership of 21 of the 28 villages in Kotia panchayat and the case is pending in Supreme Court since 1968. Peeved with frequent intrusions by Andhra and execution of various welfare programmes in Kotia, the Odisha Government had announced a special package worth Rs 150 crore for development of the disputed panchayat in April 2018.
During General Elections to PRIs, 2017, polling could not be held in two Zilla Parishad zones of Chitrakonda Block including 18 Gram Panchayats of Malkangiri district due to the security situation.
Hence, the SEC has asked that adequate precautions be taken at all levels and special preparations made to ensure that the election process starting with nominations are held smoothly in the coming Panchayat Elections.
Collectors & SPs of both the Districts have been asked to appraise the prevailing situation in these Blocks.
Meanwhile, the Commission has decided for CCTV coverage of hypersensitive booths taking into account the availability of CCTVs and the requirement of funds.
One videographer will be exclusively kept at the disposal of General Observer and one/two videographer(s) to be engaged per block on the day of poll. Prior approval of the Commission is required before installation of CCTVs.
Withdrawal to take place in Block though nomination for Ward Member and Sarpanch are done at GP Level. Entire process of withdrawal will be covered by CCTV as a lot of complaints come about impersonation of candidates, while withdrawal takes place, sources said.
On the other hand, filing of nomination papers by candidates for the poll started on Monday and will continue till January 21. The final list of candidates will be out on January 25.
As per earlier announced by the SEC, those, who will file false affidavits in their nominations, will be punished as per law.
While scrutiny of the nomination papers will be conducted on February 22, the last date for withdrawal of nominations is February 25.
The three-tier elections will be held in five phases on February 16, 18, 20, 22 and 24. People will exercise their franchise from 7 AM to 1 PM. Counting of votes and declaration of result will take place on February 26, 27 and 28.
In view of the prevailing COVID-19 situation, rallies, public meetings have been restricted. Only digital and virtual campaigning is allowed.