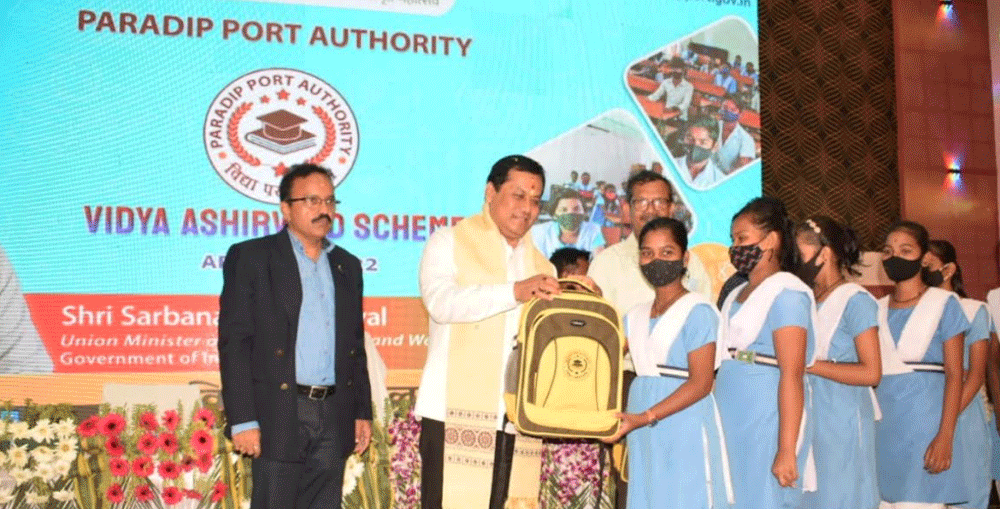 Paradip: Union Minister of Ports, Shipping & Waterways, Sarbanand Sonowal Monday said that under Maritime Vision-2030, the Paradip Port Authority will become a mega port.
"For this, employees, the stakeholders like exporters, importers will have to play a crucial role," he said addressing the media, employees and denizens of Paradip at a meeting at the newly inaugurated Biju Convention Centre.
The Union Minister said that Paradip is going to become one of Asia's prominent industrial hub with large projects of around Rs 10,000 crore.
"Port based industrialization is on the anvil. With the merger of Inland waterways of Mahanadi with Coastal water of the Bay of Bengal via Paradip Port, a huge potential for development has been created," he added.
As the nation is celebrating Azadi ka Amrit Mahotsav, the Paradip Port Authority that came into existence post-independence has achieved tremendous success and created its own identity, he said.
Apart from the employees, the local population has also extended its whole hearted support, he said while also thanking Chief Minister Naveen Patnaik for support in development of Paradip Port.
"In future also they should continue this type of support so that Prime Minister Shri Narendra Modi's vision of a strong Atma Nibhar Bharat is realised," he said.
Sonowal said in the spirit of 'Sabka Sath, Sabka Vikas, Sabka Vishwas, through Sabka Prayas' the efforts of several line ministries were synchronised for the holistic and speedy development of the nation, the Prime Minister had announced the PM Gati Shakti National Master Plan worth Rs. 100 lakhs crore.
'Gati Shakti' aims to provide systematic, multi modal connectivity to various economic zones for seamless movement of people, goods & services resulting in efficient conduct of logistics and economic activities, the Union Minister said.
"In order to become a super power our new generation should undergo new innovation thought process, start-ups, connectivity, industry, science and technology," he said and added, "There should be coherent approach between the teaching community, parents and students."
Sonowal launched "Vidya Ashribad Scheme" for the local school students belonging to the marginalized section of the society who are being provided with study kits comprising of school bags, shoes and other accessories.
He also launched the "Baristha Kalyan Yojana" under which the inmates of Maa Santoshi Old Age Home were provided utility kits.
PPA Chairman PL Haranadh outlined about the prospects of various projects like 2nd exit-cum-road flyover (Gati-Shakti Project), sewerage treatment plant, creation of 'Aayush Garden', Paradip College Boy's Hostel and container scanner which were inaugurated by the Minister.