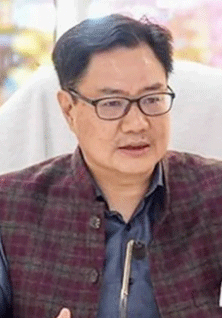 New Delhi: As many as 205 out of 2417 dispute cases in Odisha have been resolved through Mediation Centres under the aegis of the National Legal Services Authority (NALSA), during the last three financial years.
Union Law and Justice Minister KirenRijijuhas informed this in a written reply to a question asked by RajyaSabha member Sujeet Kumar on Thursday.
The Mediation Centres in Odisha have received 2417 dispute cases during 2019-20, 2020-21 and 2021-22, of which 205 cases have been resolved.
Out of 1378 cases received in 2019-20, 90 cases were resolved while 40 of 305 cases were disposed off in the next year. Similarly, 75 of 734 cases recorded in the year 2021-22 were cleared by the Mediation Centres, he said.
Moreover, such Centres in Odisha have received 183 cases till May of the current financial year, of which only 15 were disposed off, said Mr.Rijiju.
The Union Minister said the Government is committed towards encouraging Alternative Dispute Resolution (ADR) mechanisms including mediation, which is expected to reduce the burden on the judiciary and thereby enable timely dispensation of justice to the citizens of the country.
"It is the endeavour of the Government that the judiciary and legislature work together for encouraging adoption of ADR mechanisms including mediation, for early resolution of disputes," he said.
Section 89 of the Code of Civil Procedure, 1908, was inserted through the Code of Civil Procedure (Amendment) Act, 1999, and is effective from July 1, 2002. Section 89 states that where it appears to the Court that there exist elements of a settlement which may be acceptable to the parties, the Court shall formulate the terms of settlement and give them to the parties for their observations and after receiving the observations of the parties, the Court may reformulate the terms of a possible settlement and refer the same for arbitration; conciliation; judicial settlement including settlement through LokAdalat; or mediation.
Mediation therefore, he said, is one of the modes of ADR, which have been enabled under Section 89 of the Civil Procedure Code, 1908 and has emerged as a popular and useful method for settlement of disputes.
The Legal Service Authorities and court annexed mediation centres are actively involved in getting the disputes settled through mediation and the Government encourages and supports the endeavors, said the Minister.
NALSA has allotted grants to the Mediation and Conciliation Project Committee, Supreme Court of India, to support mediation activities including training.
Further, in order to promote and encourage mediation, awareness campaigns are conducted to make the citizenry aware of mediation as an effective mode of dispute resolution, he informed.
Moreover, he said, the Government has also introduced the Mediation Bill, 2021, in the RajyaSabha on 20.12.2021 to enact a standalone law on Mediation. The Bill aims to inter-alia promote, encourage and facilitate mediation, especially institutional mediation for resolution of disputes, commercial or otherwise, enforce mediation settlement agreements and establish the Mediation Council of India.