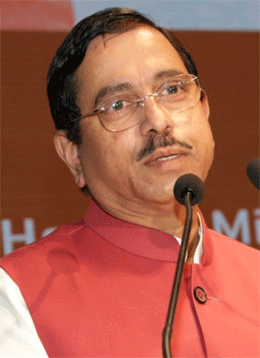 New Delhi: Union Coal Minister Pralhad Joshi Monday said that about 46 Percent of the total coal dispatched by Mahanadi Coalfields Limited (MCL) was supplied to industries in Odisha.
Giving a written reply to a question asked by BJD MP Amar Patnaik in Parliament, Joshi said supply of coal to local industries including Captive Power Plants (CPPs) having Fuel Supply Agreement (FSA) with Mahanadi Coalfields Limited (MCL) is being done as per their Annual Contracted Quantity (ACQ) mentioned in their Agreement.
In addition, coal is also being supplied to local industries (including CPPs) under different schemes.
During the current fiscal (FY 2021-22), till December, MCL has produced 117.12 Million Tonne (MT) of coal while the total coal dispatched was 129.37 MT, he said.
Out of the total coal dispatched by the MCL, 59.35 MT coal was supplied within Odisha which is about 46% of the total coal dispatched, Joshi said.
Further, he said, the coal supply to non-power industries within Odisha has been 31.75 MT, which is about 54% of total coal supplied within Odisha.
In 2021-22 (till December), the materialization percentage for local CPPs in Odisha is about 60% against the ACQ mentioned in their FSA.
Additionally, 12.797 MT of coal have been supplied to local captive power plants till December 2021 under exclusive e-Auction scheme.
Notably, the State-based CPPs are facing a coal crisis due to inadequate supply of coal by the Central-PSU, MCL. Recently, various Industrial Associations of Odisha including UCCI and others have sought intervention of Chief Minister Naveen Patnaik to end the crisis.
Utkal Chamber Of Commerce & Industry Ltd (UCCI), an association of industries in Odisha has sought personal intervention of Chief Minister Naveen Patnaik for adequate supply of coal to local industries.
UCCI president Brahma Mishra has written a letter to the Chief Minister, in this regard recently. In the letter, he thanked the CM for providing continued support in promoting industries in the State.
"We would like to bring to your kind attention the current acute coal shortage situation in the state with many units having stock out or critical coal stock seriously affecting the viable operation of the industrial units," Mishra said in the letter.
Recently, the Odisha Assembly of Small and Medium Enterprises (OASME), in its letter to the CM, had said that the CPPs are getting just 40- 50% of the required coal supplies, creating a backlog of over 1500 coal rakes, since most of the available coal rakes are being diverted away from CPPs.
Odisha holds 25% of the total coal deposit of the country. Out of the 150 million tons of coal produced through Mahanadi Coalfields Limited (MCL), 65% is being transferred to other states and only 35% is reserved for Orissa industries, against the actual minimum requirement of 55% for local CPPs, the association had mentioned.
Similarly, the Association of Industrial Entrepreneurs of Bhubaneswar (AIEBA) had also sought State Government's help to resolve the coal crisis